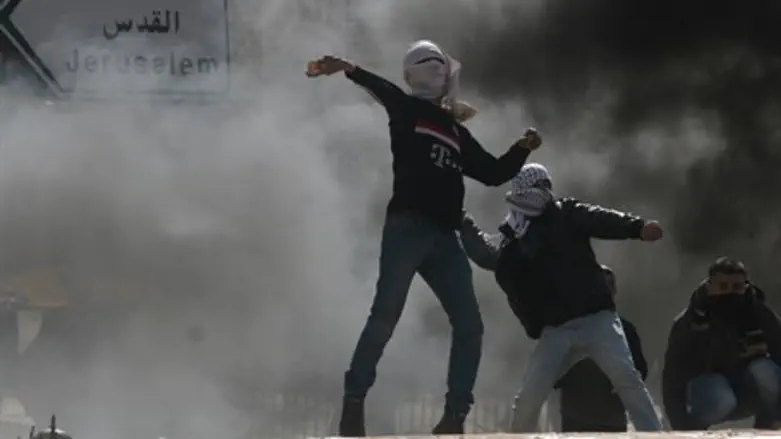 Rock throwing in Jerusalem (file)
Flash 90
A three-year-old toddler was lightly wounded on Monday night by Arab terrorists that hurled rocks through the window of the bus she was riding in, as it passed through Uzi Narkis Street in the northern Jerusalem neighborhood of Shuafat.
Magen David Adom (MDA) paramedics rushed to the scene to provide the baby girl with medical treatment, transferring her afterwards to the Hadassah Mount Scopus Medical Center.
The toddler was wounded while riding on the Egged 143 bus line from Tel Tzion, located north of Jerusalem in the Binyamin area of Samaria, to the Israeli capital.
Police forces were dispatched to scour the area for the attackers.
Just shortly afterwards a bus driver was also lightly wounded on the road between Migdalim and Kfar Tapuah in Samaria, after Arab terrorists threw two molotov cocktails at him.
One of the firebombs struck the bus's windshield, shattering the glass and wounding the driver who was treated on the scene and did not require further medical attention.
There has been a noted rise in rock and firebomb terror attacks in recent weeks.
Arab terrorists on Saturday night threw a molotov cocktail at "Beit Meyuhas," an historical Jewish home from the 19th century CE in Jerusalem's City of David area just south of the Old City. A 45-year-old Jewish man was wounded lightly in the attack, suffering first and second-degree burns to his head.
Another baby girl, this time 11-months-old, was victim last Wednesday of an Arab rock attack on the car she was in at Yitzhar junction in Samaria. The baby suffered light wounds, which medics called a "miracle" given the fact the rock that hit her was the size of a fist.
Likewise last Saturday night Yedaya Sharchaton was critically wounded while driving with his wife Hadasah and one-year-old daughter Nitzan in Judea north of Hevron, after Arab terrorists threw rocks through the windshield, hitting him and causing the car to flip.
In response Yohai Dimri, head of the Har Hevron Regional Council where the attack occurred , told Arutz Sheva "this isn't the first time that it's been proven rocks are just as dangerous as gunfire or a rocket."
The rise in attacks comes as senior officials in Palestinian Authority (PA) Chairman Mahmoud Abbas's Fatah faction have recently said they reached a "political decision" to support Arab terrorists "slaughtering" Jews living in Judea, Samaria and eastern Jerusalem.
They likewise have called for a full return to terrorism, declaring "open war" on the Jewish state.