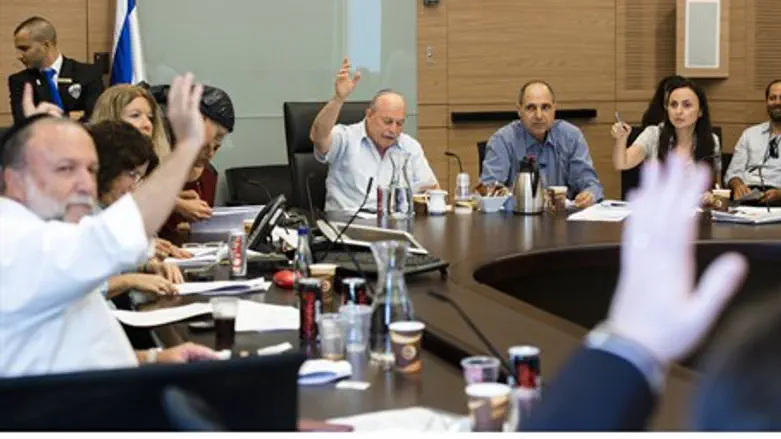 Finance committee in budget vote (file)
Flash 90
Operation Protective Edge may have ended in a ceasefire last Tuesday, but the economic fallout to fund the counter-terror operation is just beginning to be felt as Knesset Ministers are to confirm a 1.9 billion shekel (roughly $531 million) budget cut Sunday morning.
The ministerial meeting, which will be held in the Hof Ashkelon Regional Council area and likely be boycotted by Gaza Belt leaders, will discuss cutbacks in the 2014 budget to fund the operation, as well as a 1.3 billion shekel five-year-plan to develop Sderot and the Gaza Belt communities.
The aid package is to include 163 million shekels for defense and shelter for local communities, as well as a 17.6 million shekel injection to local regional councils. In total, 196 million shekels ($55 million) are to be transferred in a one-time influx of funds to Gaza Belt communities during 2014.
In order to provide the funds, government ministries are to have their budgets cut by 2% for the 2014 fiscal year.
The governmental ministry hardest hit by the proposed budget cut is the Ministry of Education, which Walla! reports will take a 480 million shekel ($134 million) hit.
Following education, transportation development will be cut by 243 million shekels, and higher education by 175 million shekels. The Ministry of Health is also to take a 43 million shekel cut.
"Rage in Ashkelon"
Reportedly the communities to be included in the aid package raised by the budget cuts will be those within seven kilometers of Gaza, areas which were hard hit by mortar fire.
However, Ashkelon, located a mere 14 kilometers from Gaza and the site of great rocket damage, including a direct strike on a home, will not be included in the benefits; neither will Ashdod or Be'er Sheva, both of which were likewise hard-hit by Gaza rocket fire.
Ashkelon Mayor Itamar Shimoni fumed over the reported decision to Channel 10 on Sunday, saying "I'm not used to using such expressions, but this is a disgrace. We sat firm as a city over 50 days, only so that decision makers will make the right decisions. I don't think there's mutual responsibility here."
While Ashkelon may be included in later governmental benefits, such funding may take time in coming. Shimoni noted "for small businesses that are told 'another two weeks' or 'another month' - they don't have that kind of leeway."
The mayor added that he learned that his city, like Ashdod and Be'er Sheva, will not be included in the initial aid package through the media, and not directly from the central government.
"I don't know if this protest will help, but I must say what I think. There's a great rage in the city," concluded Shimoni.
It should be noted that Prime Minister Binyamin Netanyahu reportedly promised Ashdod Mayor Yehiel Lasri on Saturday night that regional councils as far as 40 kilometers from Gaza will also be receiving an aid package, reports Kol Yisrael (Israel Radio).
It remains uncertain if that aid will be included as part of the initial funds which the Gaza Belt will receive, or if not, when it will be given, for as Shimoni noted the funds are needed speedily by the local economy. According to the report, the amount of aid to the farther communities will be set by a special committee and approved by the Knesset.