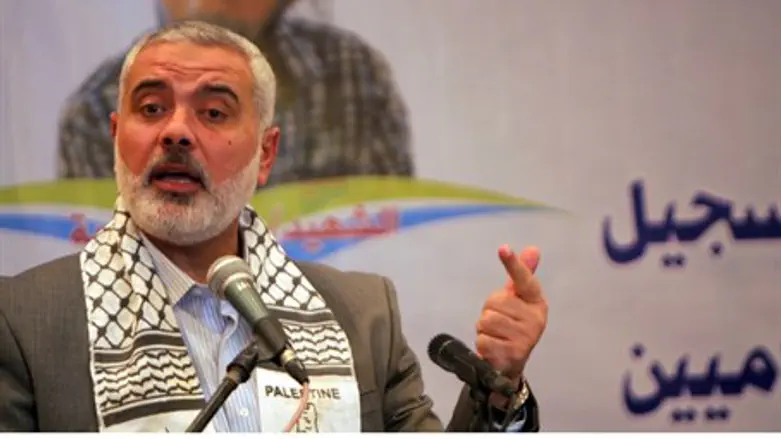 Hamas leader Ismail Haniyeh
Flash 90
Ismail Haniyeh is apparently alive and well in Gaza, Yediot Aharonot reports Friday, after he posted photos of himself grinning and giving the "peace" sign outside the ruins of his former home in the Shati region. 
The photos quickly went viral, as frustrated Israelis took note that Haniyeh's expression was a little too joyous - especially in light of a recent ceasefire deal during which Israel reportedly agreed to several of Hamas's demands, but was given literally nothing in return. 
Haniyeh served as the prime minister of Hamas's government in Gaza, but stepped down when Hamas and Palestinian Authority Chairman Mahmoud Abbas's Fatah movement reached a deal on a unity government.
The photos also emerge less than three days after reports surfaced that Haniyeh had been hospitalized in Gaza under uncertain circumstances. Senior members of Hamas, as well as Haniyeh's own son, denied the reports, saying they were "false rumors" and that the leader had simply gone to visit the wounded.
Hours earlier, Haniyeh had given a "victory speech" from the ceasefire to thousands of cheering Gazans, during which he praised the "marytrs" - terrorists and civilians used as human shields - in the conflict. 
"The victory is beyond the limits of time and place. This battle is a war that lacks a precedent in the history of conflict with the enemy," he said, stressing that the group was preparing for the "ultimate battle" for the "liberation of Palestine."
Controversy over Haniyeh's whereabouts also ensued after Hamas terrorists captured in Operation Protective Edge stated that the leader, as well as other prominent Hamas members, were hiding out inside the Shifa Hospital in Gaza.
Hamas's leaders-in-exile have facilitated, over and over again, the use of Gaza's civilians as human shields during the fifty-day long conflict, and then padded the "civilian" death count to include known terrorists killed in targeted airstrikes. 
(Arutz Sheva's North American desk is keeping you updated until the start of Shabbat in New York. The time posted automatically on all Arutz Sheva articles, however, is Israeli time.)