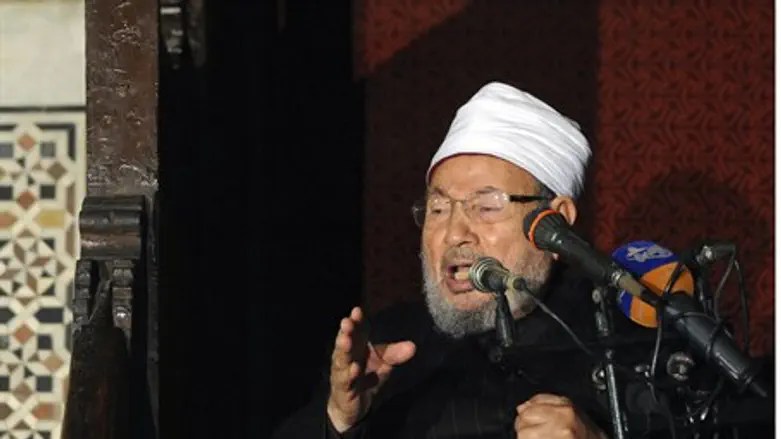 Yusuf al-Qaradawi
Reuters
Sheikh Yusuf al-Qaradawi, the radical Muslim cleric who serves as president of the International Union of Muslim Scholars, has come out sharply against the jihadist Islamic State (IS, formerly ISIS), which has captured large parts of Iraq and Syria.
Qaradawi, who is also the spiritual guide of the Muslim Brotherhood and Hamas, said the caliphate founded by IS in the areas that have fallen under its grasp is not legitimate.
Speaking to a Turkish news agency, Qaradawi argued that the caliphate has no meaning, claiming it does not stand up to the conditions for founding a caliphate as prescribed by Muslim sharia law.
In order for a caliphate to be established in the modern age, Qaradawi said that such a state must be founded by several countries that implement sharia law through a federation of confederation, and not as was done in earlier periods of history when Muslim states militarily established their caliphates over other Muslims.
The criticism apparently targets IS for using force to conquer parts of Iraq and Syria, in what has largely turned into a religious war between the Sunni IS and Shi'ite forces in those two countries, accompanied by the choice of death or conversion for religious minorities.
According to the spiritual guide of the terrorist group Hamas, the way to deal with "extremist" Islamic organizations is to give a central platform to a more "moderate" approach to Islam, which he termed a middle ground, and likewise to condemn religious fanatics.
The criticism may appear ironic to many, given that Qaradawi supports Hamas's jihad holy war of terror against Israel, and has in the past made religious rulings permitting suicide bombings in order to murder Israeli citizens.
The cleric's guidelines for what makes an "extremist" approach different from a "moderate" approach appear somewhat baffling; last June he termed the Shi'ite Iran-proxy terror group Hezbollah, which is based in Lebanon and like Hamas has fought Israel, the "party of Satan."
Qaradawi's criticism of IS comes shortly after Prime Minister Binyamin Netanyahu said "Hamas is ISIS, ISIS is Hamas."