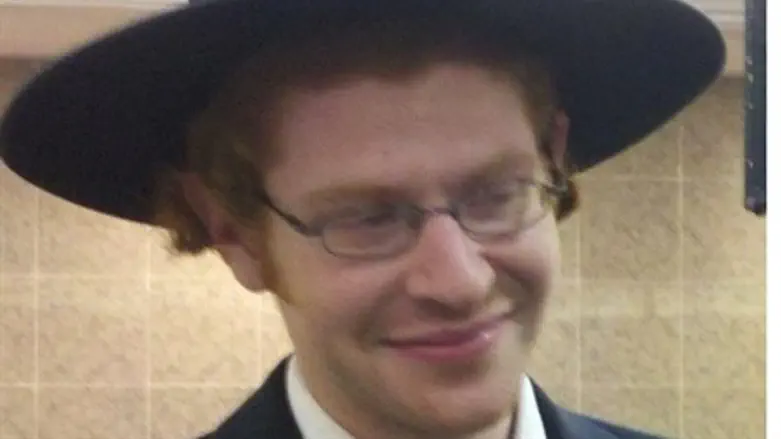 Aharon Soffer
Search poster
As the search continueed for Aharon Soffer, a 23-year-old yeshiva student from New Jersey who went missing in the Jerusalem Forest last Friday, police were reported to be widening the area being searched and adding additional forces to the efforts, but thelatest reports indicate that the search may be over, after a body was found in Ein Kerem Thursday afternoon.
Police are attempting to determine if it is Soffer's. The body is reportedly that of a man. Walla! News reported that the body fits Soffer's description. Behadrei Haredim, a hareidi news site, reported that the body is indeed Soffer's and that the search was called off after certain items connected to Soffer were found next to the body.
An uncorroborated report in the Lakewood News cited unnamed sources who also said the body found is indeed Soffer's and that the death does not appear to be terror related. Additionally, it appears he may have fallen down a cliff while attempting to navigate his way out of the forest, reported the news outlet. Soffer is originally from Lakewood.
Yisrael Erlich, a volunteer with United Hatzalah, was among the first to find the body.
"I joined a large group of United Hatzalah volunteers that combed the area of Ein Kerem by foot...soon after beginning our search we came across a man's body among the shrubbery that seemed to match the missing student's description, we immediately notified the police...and a large group of police and rapid-responders quickly appeared on the scene," said Erlich.
The volunteer added "I was not expecting the incident to end in such a horrific tragedy." 
Soffer's parents have flown in from Lakewood to be closer to the investigation; they are currently at the United Hatzalah's headquarters in Jerusalem awaiting further news from the police.
United Hatzalah President Eli Beer also commented on the finding of the body, saying "we are very sorry about the tragic ending of the story, we were hoping and praying for a positive end."
Earlier in the day, the IDF's canine units and the Jerusalem District Police's mounted units intensified the searched through Wednesday night and on into Thursday through a wider ring of the Jerusalem Forest.
The decision to expand the area being searched was put into effect on Thursday afternoon, and has search teams fanning through the neighborhoods bordering the Jerusalem Forest, including Ein Kerem, Kiryat Yovel, Beit Zayit, Bayit Vagan and Har Nof.
United Hatzalah has also been heavily involved in the search, dispatching dozens of volunteers through the Jerusalem Forest. As the search expands in the coming hours, hundreds more volunteers will join in the search managed from the United Hatzalah mobile operations center in Ein Kerem.
Gil Ronen contributed to this report