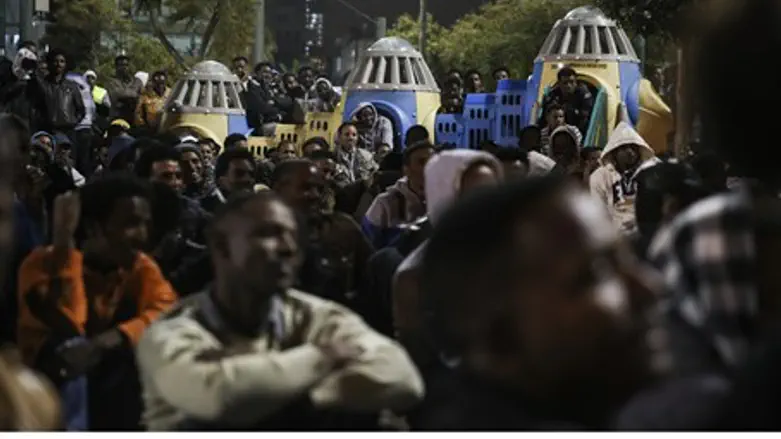 Illegal African immigrants in Tel Aviv (file)
Flash 90
An Egyptian border guard was killed on Wednesday during a shootout with people traffickers trying to cross into Israel with illegal African immigrants, a security official said.
Armed groups have been transporting thousands of Eritreans and Sudanese each year to Israel through a desert region stretching from Sudan, through Egypt and up to the Sinai Peninsula.
The 22-year-old Egyptian officer was stationed in the middle of the Sinai Peninsula when he was shot, officials said.
The number of illegal African immigrants in Israel reached 54,000 in 2013 according to the immigration office. Their presence has been accompanied by an exponentially skyrocketing in crime rates, particularly in southern Tel Aviv.
The recent shooting incident illustrates what Yochi Genison, the most senior official at the State Attorney's office tasked with immigration, clarified in June, saying that the illegal immigrants are not legitimate asylum-seekers.  
"We need to understand the real story here," Genison stated. "This is not about refugees fleeing for their lives, but institutionalized smuggling networks."
"There has formed a complete industry based on human trafficking, smuggling humans living in Africa who seek to make a living in Europe and Israel," she continued. "And the vast majority of coming to Israel are not asylum seekers, but people who already found protection in Third World countries who choose to continue to work in Israel and settle there."
"We investigate the migrants and their stories and what we hear is the same: 'I went from X state to here after I thought, 'Wow, I got protection, but they told me I could, for $5,000, enter Israel," Genison concluded. 
Last year, Israel launched a crackdown on the illegal infiltrators, rounding up and deporting 3,920 by the end of the year, and building a hi-tech fence along the border with Egypt, which brought the influx of illegals to a halt.
Infiltrators in June held a hunger strike after Israeli police forcibly broke up a sit-in they were staging along the Egyptian border, protesting their detention at the Holot detention camp in the southern Negev desert.
Holot was opened after Israel passed legislation in December 2013 letting the state detain illegal infiltrators for up to a year without trial; Holot is an open facility, although detainees are required to return every night.