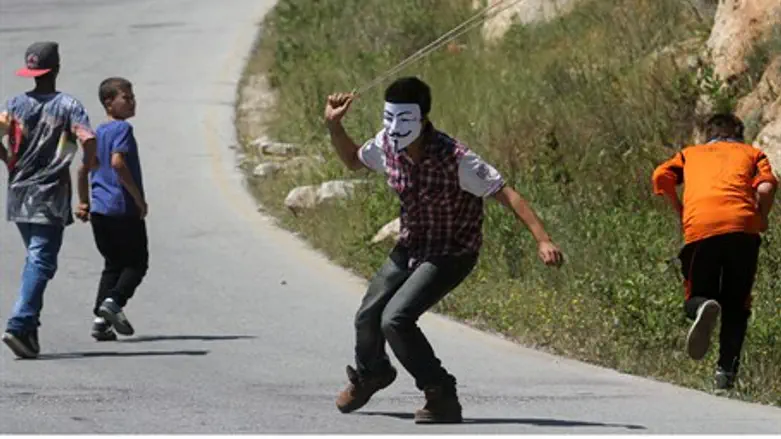 Rock attack (illustration)
Flash 90
Naveh (7) and Yehiya (9) Tubul returned from their first day of school on Wednesday at a yeshiva in Nazareth Illit; on their way home, they were accosted by Arab children who asked if they were Jewish and proceeded to hurl rocks at them.
Yehiya spoke to Arutz Sheva about the harrowing experience, saying "after we finished studies, we wanted to go home; we went together with two other kids from the yeshiva."
"On the way several Arab kids around nine-years-old were sitting on Yodfat Street," recounted Yehiya. "They asked if we were Jews and we said yes, then they told us 'get out of here, we don't like Jews.'"
"We didn't respond and continued walking; suddenly I saw my little brother Naveh crying - one of the rocks hit him in the ear. The Arabs got up to see if they hit us and we continued home," said the nine-year-old.
The two young boys' mother also sat down with Arutz Sheva, noting that she contacted the police to submit a complaint.
"We live on Hermon Street, which is an adjacent street to Yodfat (where the attack happened)," said the mother. "It happened in the middle of the day, and I'm totally shocked. Until today we never came across something like this. The police didn't find the (Arab) children, but our kids are still shocked."
Nazareth Illit residents have complained of a rise in crime coinciding with a large influx of Arab-Israelis moving into the Jewish town. Many have warned that the very Jewish character of the town is in jeopardy.
The rock attack comes amid a spate of similar attacks. Also on Wednesday, an 11-month-old baby girl was lightly hurt after Arab terrorists threw rocks at the car she was in at Yitzhar junction in Samaria.
The Magen David Adom ambulance driver who brought her to Schneider Children's Hospital in Petah Tikva remarked that the rock that hit the baby was the size of a fist, and that the fact that the baby did not suffer more severe injuries is "a miracle."
It was reported around the time of the attack that after a year and a half of intensive operations and treatment, four-and-a-half-year-old Adelle Biton on Thursday will be returning to her homein the town of Yakir, Samaria.
Biton likewise miraculously survived a rock attack to the head as she was in the family car driving near Ariel. She suffered critical wounds and permanent damage, and still has a long road of rehabilitation ahead of her.
Another critical injury was inflicted this week; the victim, Yedaya Sharchaton, was driving with his wife Hadasah and one-year-old daughter Nitzan in Judea on Saturday night when suddenly Arab terrorists threw rocks through the windshield. Yedaya was hit in the head, causing the car to flip.
Har Hevron Regional Council head Yohai Dimri spoke to Arutz Sheva about that attack, saying "this isn't the first time that it's been proven rocks are just as dangerous as gunfire or a rocket."
Then on Monday evening, three children were wounded when an Arab terrorist threw rocks at the car they were in travelling through the Wadi Joz neighborhood of Jerusalem, located not far from Hebrew University's Mt. Scopus campus. The terrorist was arrested and taken in for questioning.