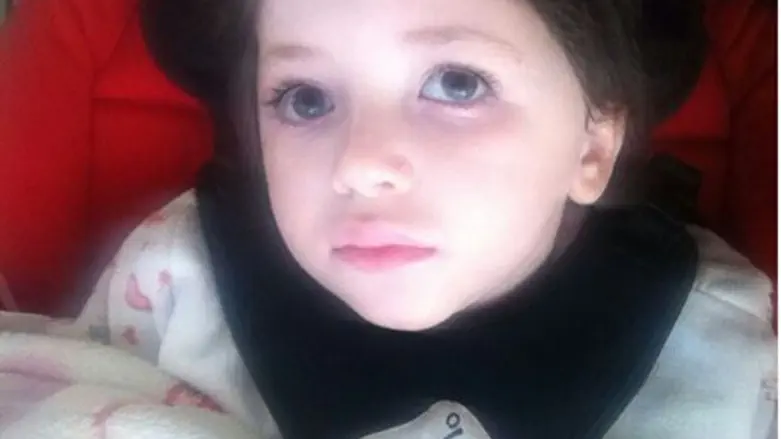 Adelle Biton
Courtesy of the Biton family
After a year and a half of intensive operations and treatment, four-and-a-half-year-old Adelle Biton will be returning to her home in the town of Yakir, in Samaria, tomorrow (Thursday).
But along with her family's joy at her return, there are also fears for the long road to recovery which lies ahead for the infant victim of terror.
On March 2013, as she was travelling in a car with her siblings and mother Adva close to the city of Ariel, their car was ambushed by Arabs, who hurled rocks at the car, causing it to veer off the road and crash headfirst into a truck.
Adelle, who was just three years old at the time, was left critically injured and fighting for her life; investigators say she was struck directly in the head by fist-sized rock thrown by her attackers.
Following a difficult period in intensive care and extensive operations she was transferred for rehabilitation at the Beit Lowenstein hospital in Raanana. As her recovery slowly progressed, she was allowed home to Yakir for weekends.
Earlier this year the hospital took steps to release Adelle from their care, saying there was little more they could do for her. Her family took the case to court, and in May it was agreed that she would be allowed to remain for an additional four months.
"Our Adelle is returning home," mother Adva told Yediot Aharonoth.
Adelle is responding to certain stimuli and capable of some movement, but still requires constant care and has a long and arduous period of intensive therapy still ahead of her.
"Beit Lowenstein is not helping us any more," continued Adva. "At home Adelle will receive more treatment and more family warmth." Among other things, her daughter will be receiving speech therapy and physiotherapy.
Adding to the sense of celebration, Adva is currently in her ninth month of pregnancy - and will soon give birth to her first son after four daughters.
"Thank God, there will be happiness and joy... God is helping us," she said.
Tomorrow will also see another development related to the attack, in which Adva and her three other daughters were also lightly injured, as a military court will be conducting a hearing for the main terrorist convicted for the crime - one of a group of five Arab youths arrested for throwing rocks at cars in the area.
Adva said she wanted to attend to advocate against "concessions or agreements" with the terrorist, but Adelle's homecoming was more important to her.
"If I could, I would stand there and look the terrorist in the eye, so he can see that he hasn't broken us, and so that judges will know that we demand he receives the punishment that is due to him."