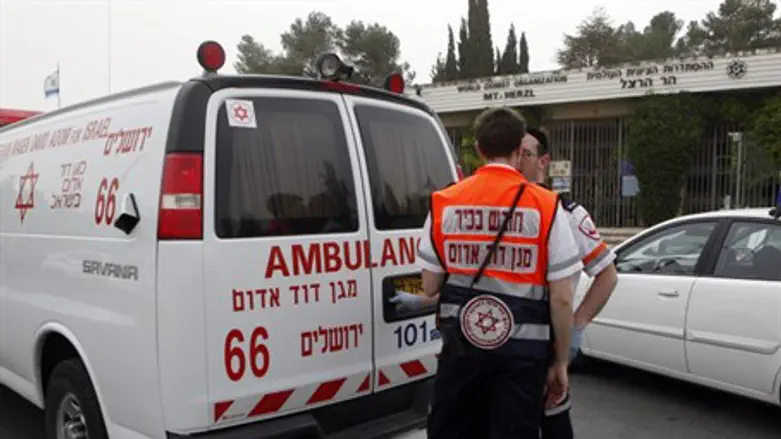 Magen David Adom ambulance (file)
Flash 90
Israel's Magen David Adom (MDA) ambulance service attended to 842 civilian casualties during 50 days of Operation Protective Edge, as terrorists in Gaza showered rockets and mortars on Israeli population centers.
That number included five fatalities, and 37 people suffering various degrees of injury from rocket shrapnel. Of those, one was classified as "critically" wounded, 10 others as "serious", six as "moderate" and 20 as "light".
MDA treated a further 33 people for injuries sustained from glass or collapsing buildings, 18 people injured in traffic accidents as they rushed to find shelter during air raid sirens - one of whom was injured seriously, and the rest of whom were treated for moderate to light wounds - and a further 159 people injured by falling or in other accidents on the way to bomb shelters.
Nine other people were injured in other acts of terrorism during that period, including one man who was moderately injured in a stabbing attack in Maaleh Adumim.
Seven other casualties were attended to in the aftermath of the "tractor terror" attack in Jerusalem earlier this month, including a 25-year-old man who died from his injuries.
A 20-year-old soldier who was shot and seriously wounded in a terror attack near Mount Scopus on the same day was also attended to by MDA paramedics.
Magen David Adom CEO Eli Bin praised his teams "who work tirelessly and stood on high alert throughout the operation, who even today worked under fire, and provided rapid and professional care to casualties in various arenas."
Bin called on Israelis to continue listening to directives issued by the Home Front Command, and to use the emergency 101 hotline to contact paramedics in case of an emergency.
He also issued his condolences to the families of those killed, and wished the wounded a speedy recovery.