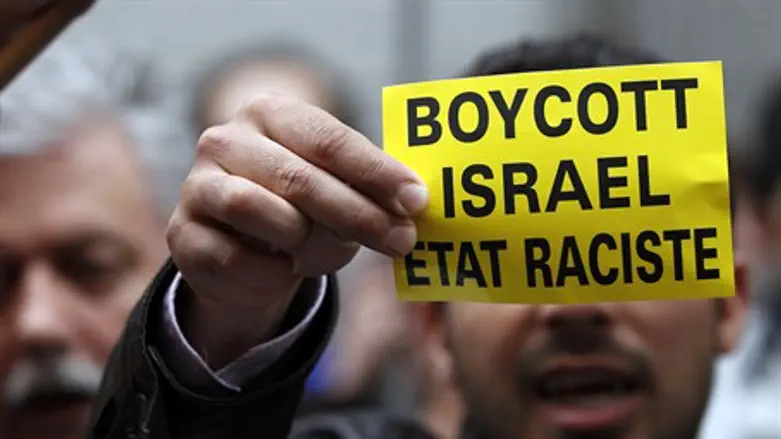 Anti-Israel boycott movement (file)
Reuters
The head of the Manufacturers' Association of Israel (MAI) has urged his European counterparts not to boycott Israeli businesses, warning that such a move could harm local Arab workers as well, in a letter seen Monday.
The open letter to European industry leaders comes a week before Israel is due to end exports of poultry and dairy produce from Judea and Samaria to the European Union (EU).
"I am asking for your support and assistance to convince the business community in your country not to use economic means to penalize their fellow Israeli manufacturers and exporters," Zvi Oren wrote in the letter obtained by AFP.
"Such actions can only affect our region in a negative way by loss of jobs and growth on both sides," the letter added, noting the economic damage dealt by such a move on not only Israeli but also Arab employees.
MAI reports that roughly 22,500 Arab workers are employed in Judea and Samaria communities, 6,000 of them working in Israeli-owned businesses.
It is "clear that if businesses (in Judea and Samaria) were affected by the boycott, so would be their Palestinian employees," MAI international section chief Dan Catarivas told AFP.
Catarivas added that the wider boycott campaign would have an "insignificant" effect on Israel's economy, given that produce from Judea and Samaria accounts for at most $300 million of the state's $45 billion in annual exports.
Israeli and European officials on August 17 said the Jewish state would from September 1 halt exports to the EU of poultry and dairy produce from eastern Jerusalem, Judea and Samaria.
The EU has long held an enmity towards Israel's presence in the heartland of the Jewish state, in 2013issuing guidelines banning European institutions from dealing with Israeli entities operating over the 1949 Armistice lines.
This anti-Israel sentiment has further fomented during the course of Operation Protective Edge, which began last month in response to Hamas's escalating terror war on Israel. A recent study found anti-Semitic incidents rose by 383% in July as compared to the same month last year.