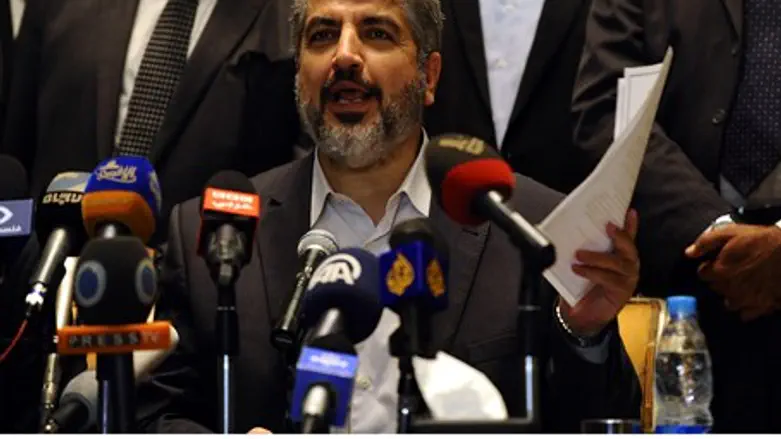 Khaled Mashaal
Reuters
Hamas leader Khaled Mashaal threatened on Sunday that his group will not only continue attacking Israel from Gaza, but will also launch attacks from Judea and Samaria as well.
In an interview with Iranian media, Mashaal claimed that Gaza has been under attack for fifty days but was able to disrupt the plans of the "Zionists".
He further claimed that the Palestinian Arab side had offered a ceasefire but Israel made verbal maneuvers in order to avoid agreeing to it.
Mashaal reiterated the Palestinian side's conditions for a ceasefire, including the lifting of the blockade, full opening of border crossings, construction of a seaport and airport, transfer of funds to and from Gaza, the passage of goods and people between Gaza and Judea and Samaria, releasing Palestinian Arabs who were released in the Shalit deal and re-arrested, and for Israel not to interfere with the operations of the national unity government between Hamas and Fatah.
The current war, Mashaal said, differs from its predecessors in the length and the scope of the Israeli attacks which, he said, led to the deaths of more than 2,000 people and the wounding of more than 10,000.
He further claimed that the Israeli "crimes" in Gaza are far more serious than the crimes "allegedly" committed during the Holocaust.
He stressed that this is a war of wills, and that the Palestinian people's advantage is that they are willing to absorb the heat while realizing that the powers of the "resistance" are fighting Israel and that the day will come when "the Zionists will leave our land."
Mashaal then warned that given the "crimes" committed by Israel in the Judea and Samaria, it is likely to face resistance by means of acts of terror in that region as well.
The comments come after weekend meetings between Mashaal and Palestinian Authority (PA) Chairman Mahmoud Abbas in Doha.
On Friday, the two urged the United Nations to draw up a "timetable" for "the Israeli occupation of Palestinian territories to end."
Just last week, it was cleared for publication that the Hamas headquarters in Turkey ordered a large-scale coup of Abbas's new PA government by destabilizing the political and security situation through a series of terror attacks on Israelis. 
Abbas later said the information could have lasting implications for the Palestinian Arab people.
The unity government itself has been slowly crumbling over the past two months, after differences of opinion have surfaced over several issues, including the war in Gaza, reactions to the abduction and murder of three Israeli teenagers, and the delayed payment of wages for government workers in Gaza in the weeks leading up to the current conflict.