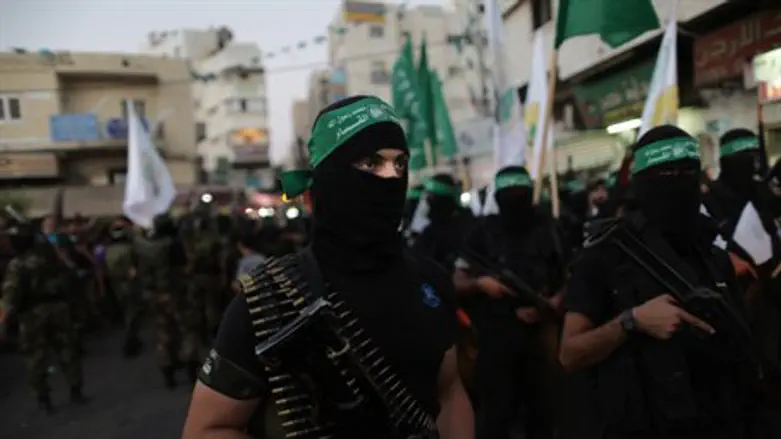 Hamas and ISIS - ideological cousins?
Flash 90
Hamas's Qatar-based leader Khaled Meshaal has objected to Israel Prime Minister Binyamin Netanyahu's comparison between the Palestinian Islamist terror group and the Islamic State, or ISIS.
Speaking Thursday to visiting US Congressman Darrell Issa (R-CA), Netanyahu said Israel was fighting the same war against Islamist terrorism as the US and other countries current working to combat the spread of the brutal Islamic State.
"We face the same Islamist network and we have to fight it together," Netanyahu stated. "Hamas is ISIS, ISIS is Hamas."
"You saw the gruesome beheading of James Foley. We see the gruesome murder and execution of three teenagers which Hamas has just admitted that they did. These are both branches of the same poisonous tree. The free world, the democracies have to stand together against this terrorism. That's the only way we'll roll them back. Ultimately that's the only way we'll defeat them."
But Meshaal told Yahoo News the comparison was false, and claimed Hamas is "not a violent religious group" (see below for full interview).
"This is a lie and a clear attempt to try to tie the issue with the US war on terrorism," he said of Netanyahu's comments. "The truth is that the Palestinians are not terrorists - they're the victims of terrorism. Hamas aren't the terrorists but the Israelis are."
"We are not a religious violent group, we are fighting aggression in our land," Meshaal continued. "We are against the killing of innocent civilians and journalists."
That latter claim will raise eyebrows given that Hamas's charter is replete with quotes from religious Islamic literature calling for the annihilation of the Jewish people. It is an offshoot of the Muslim Brotherhood, one of the world's largest Islamist networks, and its ideology mixes political Islam with "Palestinian nationalism".
Meshaal's claim that Hamas does not target innocent civilians comes as the group continues to fire deadly rockets and mortar shells indiscriminately at Israeli population centers. On Friday, one such mortar killed a four-year-old boy in the southern Israeli community of Kibbutz Nahal Oz.
Meshaal's response to questions over such targeting of civilians, in breach of international law, were somewhat conflicting.
Prior to his claim that Hamas was not targeting civilians, he admitted rockets were being fired indiscriminately at Israeli civilian population centers, but said that if it was granted "more precise weapons" Hamas would "only target military targets," and "promised" to do more to warn Israeli civilians in advance in the future.
He also defended the kidnap and murder of three Israeli teenagers in June as "legitimate". Contradicting a recent statement by senior Hamas leader Salah Al-Aruri, who said Hamas's senior leadership was fully aware of the abduction and murder of Eyal Yifrah, Gilad Sha'ar and Naftali Frenkel, Meshaal admitted the kidnappers were Hamas members but said the group's leadership only found out about their actions afterwards.
However, he echoed sentiments already shared by Hamas leaders in the immediate aftermath of the kidnappings, saying he supported and sympathized with the murder.
Watch full interview: