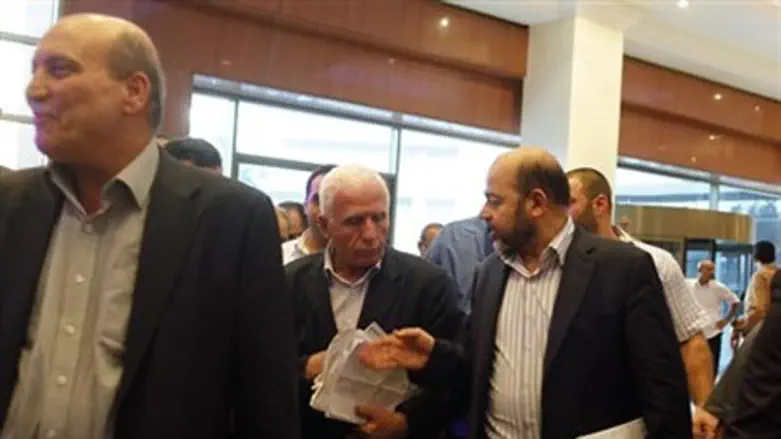 Palestinians at Cairo talks
Reuters
Egypt is to invite Israeli and Palestinian Arab delegations to return to Cairo to resume talks on a long-term truce for Gaza, Palestinian Authority (PA) Chairman Mahmoud Abbas announced on Saturday.
"Egypt is going to invite delegates to return to the negotiating table to consider a long-term truce," Abbas said after talks with Egyptian
President Abdel Fattah al-Sisi.
Egypt's foreign ministry, meanwhile, issued a statement calling for "concerned parties to accept a ceasefire of unlimited duration and to resume
indirect negotiations in Cairo".
A previous round of truce talks collapsed on Tuesday, shattering nine days of calm, as the deadly six-week conflict between Israel and Hamas terrorists resumed.
"As soon as a ceasefire goes into effect, the two sides can sit down and discuss their demands," Abbas said, adding that the Palestinian delegation would include Hamas as in past rounds.
Abbas's meeting with Sisi came after he held two rounds of talks in Qatar on Thursday and Friday with exiled Hamas leader Khaled Meshaal, whose Islamist movement is the de facto ruler of Gaza.
Sources said Abbas is 'forcing' Meshaal to return to truce talks, citing the need to keep the Palestinian 'unity government' intact. The fallout, despite the April unity pact between Fatah and Hamas, comes after a gag order was lifted on Monday exposing that Hamas from its Turkey headquarters tried to stage a coup against Abbas in Judea and Samaria, only to be foiled by the IDF and Israel Security Agency (ISA).
Meanwhile, a total of 86 rockets have been fired on Israel as of 8:45 pm Saturday, the IDF announced.