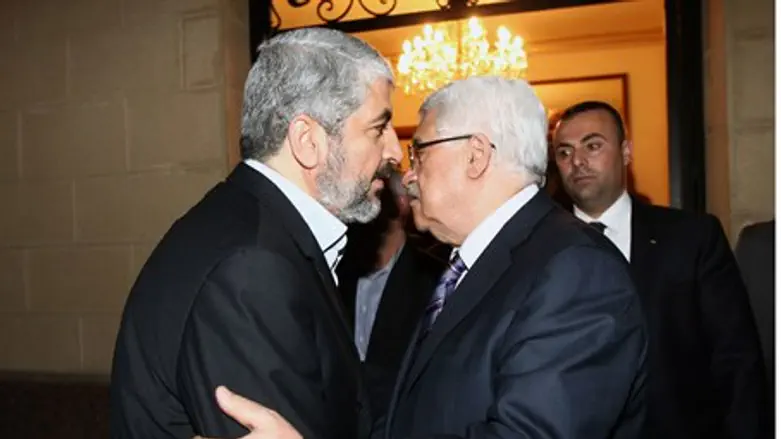 Heading for a 'divorce'? Mashaal and Abbas
Flash 90
After a reportedly heated meeting with Palestinian Authority (PA) Chairman Mahmoud Abbas on Thursday, Qatar-based Hamas political bureau chief Khaled Mashaal has made an about-face, calling for the resurrection of truce talks in Cairo.
Mashaal said Hamas "must return to indirect talks" with Israel, according to the Arabic-language Palestine Today, as cited by Walla!.
"The resistance will ensure that Israel will fulfill the demands of the Palestinians, foremost among them the removal of the Gaza blockade," said Mashaal. Those demands have included terrorist releases, as well as a Gaza sea and airport.
The statement constitutes a reversal of positions for Mashaal, who according to security sources directly ordered the three-rocket salvo on Be'er Sheva Tuesday, bypassing Hamas's "military wing" and breaching the ceasefire because the Cairo talks were not going favorably.
A source in Abbas's Fatah faction backed that appraisal Wednesday, claiming that Qatar threatened to expel Mashaal if Hamas agreed to the Egyptian truce proposal in its current structure. The source noted that Qatar had been pushing for a role in the Cairo talks, which Egypt refused.
Speaking Friday, after the recent assassination of three senior Hamas Al-Qassam Brigades commanders, and the possible assassination of Hamas's military chief Mohammed Deif, Mashaal claimed "the Palestinian people have been fighting for a hundred years already, and will not be tired out after a month."
In fact, reports indicate that Mashaal himself may have accidentally given away Deif's location to the IDF after calling him. The breaking of the rules of secrecy followed a meeting with Abbas; according to a senior Palestinian Arab source, Mashaal was under pressure to accept the Egyptian ceasefire proposal and wanted to consult with Deif.
As far as the pressure from Abbas goes, a senior Palestinian Arab source told Walla! on Friday that Abbas sharply berated Mashaal in the Thursday meeting, calling Hamas members "liars."
The fallout, despite the April unity pact between Fatah and Hamas, comes after a gag order was lifted on Monday exposing that Hamas from its Turkey headquarters tried to stage a coup against Abbas in Judea and Samaria, only to be foiled by the IDF and Israel Security Agency (ISA).
Abbas reportedly threatened Mashaal, saying Hamas must choose between "Palestinian unity" or permanent "divorce."
According to the source, PA security forces were already aware of part of the information released for publication on Monday by the ISA.