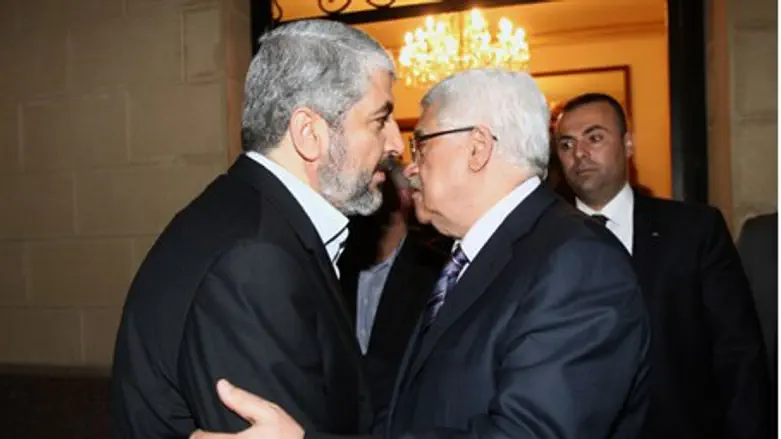 Hamas's Mashaal with Mahmoud Abbas
Flash 90
Moshir al-Masri, a senior Hamas figure, spoke on Tuesday about the tripartite meeting between Palestinian Authority (PA) Chairman Mahmoud Abbas, Hamas leader Khaled Mashaal, and Qatar Amir Sheikh Tamim Ben Hamad Al-Khamis in Qatar.
According to al-Masri, the talk "focused on Palestinian demands" regarding possible a cease-fire agreement between Israel and Hamas in Gaza. 
Speaking to the Palestinian Arab Safa news agency, al-Masri noted that the three men repeatedly stressed the importance of addressing "humanitarian needs," lifting of the blockade and the Palestinian position in general.
"Israel will pave the way for the rehabilitation of the Gaza Strip," al-Masri insisted, saying Israel's and Gaza's future depends on "the just demands and humanitarian needs of the Palestinian people." 
Apparently the need for "humanitarian aid" did not surpass the need for the leaders to make their unprecedented set of demands on Israel, including lifting all transport and import restrictions and building a seaport and airport. Both demands are seen as a security threat that would allow Hamas and Islamic Jihad terrorists to re-arm. 
"There will not be open negotiations with the Israeli enemy, and there will not be a deviation from the just demands of the Palestinian people," said Al-Masri, saying that if Israel did not accept Palestinian demands to "expect a long and well-prepared fight" from Palestinian Arab terror groups.
Israel and Hamas officially cancelled talks on Wednesday, after Hamas breached a days-long ceasefire by firing dozens of rockets at Israeli civilians. 
The tripartite meeting follows reports that Qatar orchestrated the ceasefire breach, after ordering Mashaal to pull out of the Cairo truce talks after Cairo refused to let Doha intervene.