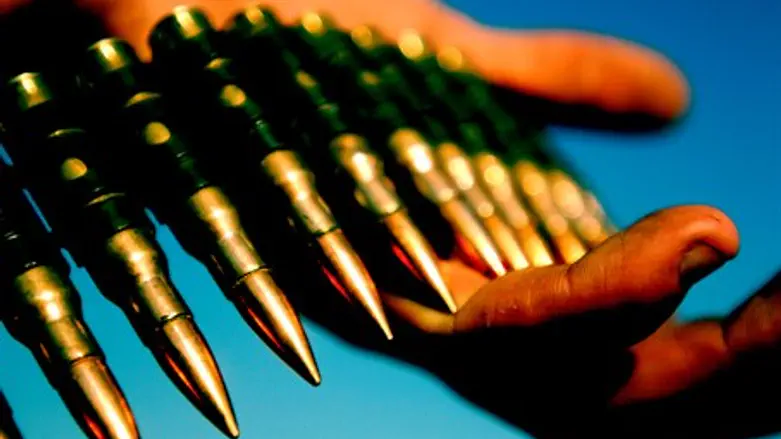 (Illustration)
Flash 90
Police on Tuesday night discovered military equipment suspected as being stolen from the IDF in a home in the Arab-Israeli village of Deir al-Assad, located just north of Karmiel in the Galilee.
The Karmiel police in their raid stumbled across roughly 1,000 rounds of 5.56 millimeter bullets, of the type used in IDF standard issue M-16 assault rifles.
Likewise they found a flak jacket and combat vest, again suspected of having been stolen from the IDF.
The owner of the home in which the equipment was found, a 38-year-old resident of the village, was arrested after the cache was unearthed in this house.
He was brought in for hearings Wednesday morning regarding the extension of his detention at the Akko Magistrates Court.
It is not known if the equipment was meant for criminal or terrorist purposes, but Islamists in Israel have escalated attacks in recent weeks in solidarity with Gazan terrorists.
As Hamas terrorists fired over 60 rockets since restarting their attacks on Israel Tuesday starting at 4 p.m. in breach of the ceasefire, and the IDF hit over 60 terror targets in retaliatory airstrikes, the IDF was also active in Judea and Samaria.
Overnight IDF forces arrested 15 wanted terrorists in the Judea and Samaria area; the arrested were brought in for investigation by security services.
Tuesday night also saw unrest in the capital of Jerusalem, as aside from a rocket being intercepted by Iron Dome over the city just before 12 p.m., two molotov cocktail attacks set an Egged bus and a Jewish home in the Silwan neighborhood on fire.