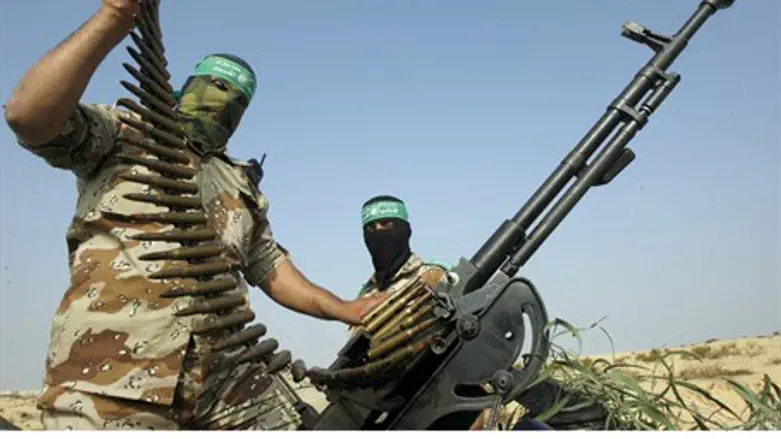 Terrorists from Hamas' Ezzedine al-Qassam Bri
Flash 90
Hamas declared on Tuesday night that Israel had "opened the gates of hell".
In a statement, the group's so-called "military wing" said that it had resumed the rocket fire on Israel because the Israeli Air Force had launched an airstrike on a home in Gaza.
The group warned that "the price will be a heavy one".
Senior Hamas official Ezzat al-Rishq warned, according to AFP, "Israel will not enjoy security so long as the Palestinian people do not, and it started it."
While the latest truce between Israel and Hamas was set to end at midnight on Tuesday, Hamas violated it hours before it expired, firing rockets towards Be'er Sheva on Tuesday afternoon around 4:00 p.m.
Heavy rocket fire hit southern and central Israel at around 11:00 p.m. on Tuesday evening.
At least one rocket reportedly hit open ground in Tel Aviv; another five hit open land in Be'er Sheva. Another rocket was reportedly shot down over central Israel.
Sirens were sounded in the Gush Dan region, the Shfela coastal plain, Ashdod, Be'er Sheva and various areas near Gaza.
Sirens were heard shortly thereafter in the city of Beit Shemesh and in parts of Judea.
Two rockets were intercepted by the Iron Dome anti-missile system over Sderot. Two more rockets were intercepted over Be'er Sheva.
Two more rockets exploded in the Eshkol region of southern Israel shortly after 11:30 p.m. They exploded in open areas, causing no physical injuries or damages.
Shortly before midnight, Gaza terrorists also targeted Jerusalem, firing at least one rocket towards the region that was intercepted by the Iron Dome system.