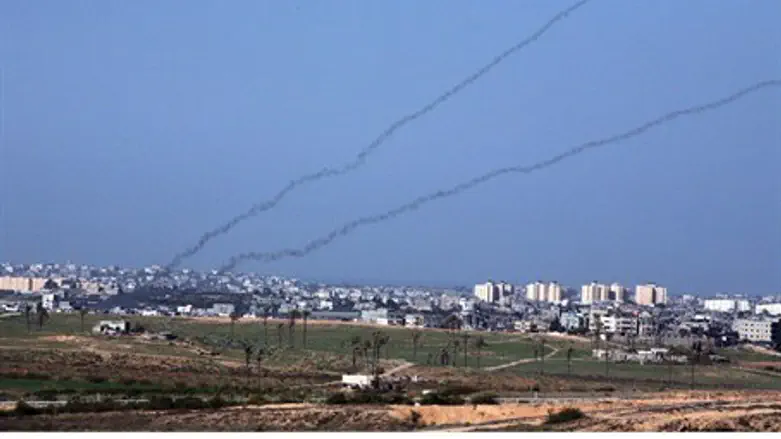 Rocket trails streaking out of Gaza (file)
Flash 90
On Tuesday afternoon shortly before 4 p.m., hours before the third extension of a ceasefire between Israel and the terrorist organizations of Hamas and Islamic Jihad in Gaza came to an end, rocket explosions were heard in Be'er Sheva.
The IDF is currently conducting investigations, but has confirmed that three rockets exploded in the Be'er Sheva region. Two were said to have struck near Be'er Sheva and one near Netivot.
All three rockets apparently hit open ground, causing no injuries or damage. No rocket sirens were sounded ahead of the explosions according to reports.
"This is a breach of the ceasefire agreement by the terrorists," the IDF Spokesperson unit said in response to the rocket salvo.
In response to the breach, Prime Minister Binyamin Netanyahu and Defense Minister Moshe Ya'alon have given the IDF orders to return fire against terror targets in Gaza in a retaliatory strikes according to diplomatic sources.
The last rockets fired at Israel by Hamas came last Wednesday night when the ceasefire was extended. That night, Hamas fired eight rockets between the three hours before and up to an hour after the extension went into effect.
On Monday trains to Sderot were cancelled over fears that the rocket fire would imminent resume at midnight with the end of the ceasefire, a ceasefire that was extended by an additional 24 hours.
As truce talks in Cairo have been faltering and stretching on into additional ceasefires, last Thursday night 10,000 Israelis in Tel Aviv's Rabin Square demanded that Israel finish the job in Gaza, and take decisive action to end the rocket and terror tunnel attacks once and for all.
Meanwhile, Prime Minister Binyamin Netanyahu last Tuesday in private meetings reportedly was "softening" ministers to accept concessions to Gaza.
Those concessions already began Sunday, when Israel made a one-sided "goodwill" gesture by lifting a ban on Gaza fishing, despite numerous infiltration attempts by sea and weapons smuggling conducted in disguised fishing boats by Gaza terrorists.
Further, amendments submitted by the Palestinian Authority (PA), Hamas and Islamic Jihad delegation to Cairo have slipped in demands for terrorist releases. Also, discussions about Hamas returning the bodies of Second Lt.Hadar Goldin and First Sgt. Oron Shaul hy''d would not be held until a month after any truce.
Hamas has clarified it will not settle for anything less than all its demands to be met in calling a truce to the terror war it began, a fact that perhaps led to the current breach of the ceasefire.