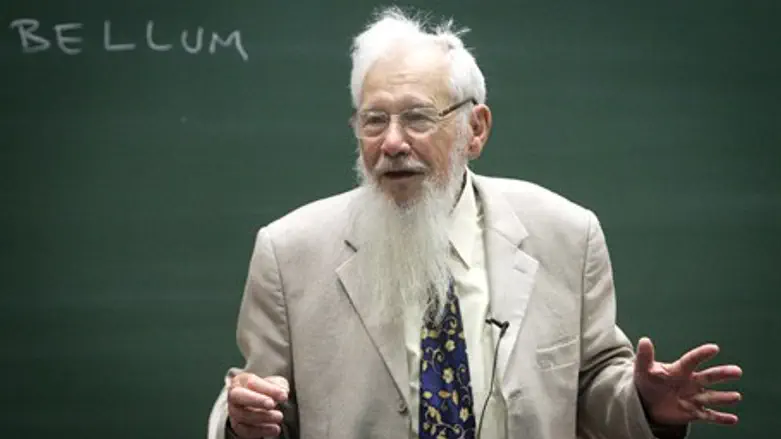 Prof. Yisrael Aumann
Flash 90
Nobel laureate Professor Yisrael (Robert) Aumann is not surprised by the UN Human Rights Council (UNHRC) decision to investigate "war crimes" accusations against Israel.
According to Aumann the decision stems not from a concern over "the occupation" or about any Israeli treatment of Arab residents of Gaza - rather, according to the Nobel prize winner, the source of the investigation is anti-Semitism, pure and simple.
That appraisal is supported by the fact the Canadian law professor William Schabas, appointed to head the committee, has been vocally blatant in his anti-Israel bias.
Speaking to Galei Tzahal (IDF Radio), Aumann said foreign committees like that of the UNHRC "receive false information from Hamas and Israeli sources," such as the far-left New Israel Fund.
"Anti-Semitism exists, and today it has just donned a different form. We've returned to Europe in the 19th, 18th and 17th centuries, dozens and hundreds of years. The cause of that is the hatred and jealousy over the success of the Jews in all they set their hands to, and that the Jews succeed in preserving their identity," stated Aumann.
Indeed, recent studies found that anti-Semitic incidents worldwide in July rose by 383% as compared to the same month the previous year.
Remarking on the 2005 Disengagement Plan that led to the rain of rockets on southern Israel, Aumann remarked "we are in the middle of a war that we brought on ourselves. We brought Hamas to Gaza after we expelled ourselves from Gaza."
"Many saw that those who conducted the intifada succeeded, and therefore they propose putting them in charge," said Aumann, referring to how the Disengagement came after the 2000 Second Intifada, asserting that terror was rewarded via the expulsion of Jews from Gush Katif.