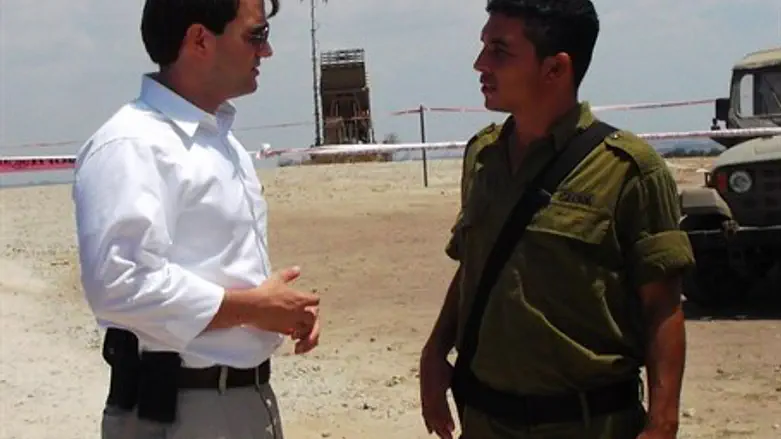 Di Iorio tours Iron Dome battery near Sderot
Di Iorio campaign
Nick Di Iorio, 28, Republican candidate for the 12th Congressional District in New York, experienced personally the precarious security situation in Israel on his visit to the Holy Land last week.
A car driving Di Iorio from a visit to Sderot toward Jerusalem came under attack by a group of Arab boys "who hurled rocks at us and laughed," Di Iorio recalled.
Also in the car with Di Iorio was New York based philanthropist Ken Abramowitz, Chairman of American Friends of Likud, who accompanied him on his visit to Israel. No one was hurt in the attack, which took place not far from Susya, near Hevron.
Di Iorio has been endorsed by the Republican, Conservative and Independent parties. This race is the first time, he claims, that a Republican running for Congress in New York has been endorsed by four parties.
Di Iorio is considered a long shot candidate in the race, which pits him against Rep. Carolyn Maloney (D-Astoria), who has been in office since 1992.
Following the 2010 census, the district was enlarged to include more Republican areas, and Di Iorio says that along with the endorsements from the other parties, this means that "we walk into election day with 90,000 party affiliated voters supporting us." There are about 400,000 registered voters in total in the district – half of them Democrats, but a relatively low turnout November 4 could work in Di Iorio's favor.
Di Iorio told Arutz Sheva that he is focusing on three issues: corruption in Washington, job creation and defending Israel. As a moderate Democrat, he explained, Maloney is "in lockstep with the president who demanded that Israel agree to an immediate ceasfire" in Gaza. She "doesn't realize that America's survival depends on Israel – which is the western world's eastern frontier – as much as Israel depends on the US."
The candidiate revealed that in his visit to southern Israel, two IDF colonels told him that Israel "needs to wait until Obama is out of office before it can take any proactive action against Iran."
Hillary Clinton "may be to the right of Obama" on Israel, he added, "but she doesn't see the long game. She thinks our loyalty to Israel is based on past political history, when in fact it is about democracy, political freedom, a common culture – and about protecting Cyprus and the Saudis from a Caliphate."
This is Di Iorio's first campaign as candidate. Originally from Rhode Island, he studied for six years to be a Catholic priest but left the seminary in 2010 and began working as a financial contractor with pharmaceutical firm Pfizer. The idea of running for office came to him last year, he says, when he became convinced that New York City is "becoming unsustainable."
Di Iorio
At the Western Wall
Di Iorio