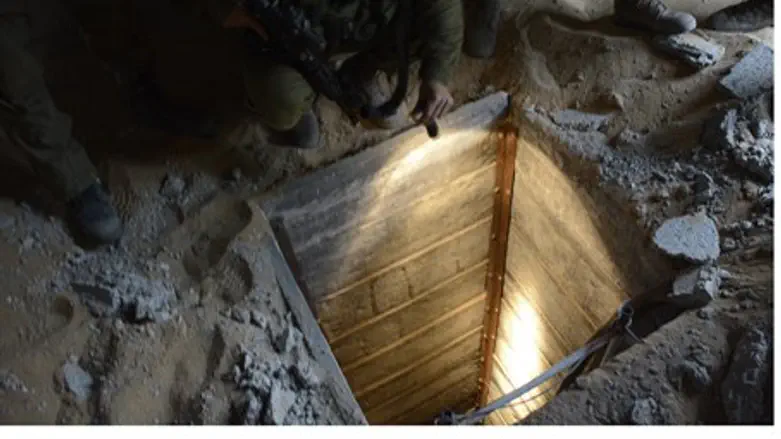 Hamas tunnel
IDF Spokesman
Yom Tov Samia, formerly the head of the IDF's Southern Command, said on Saturday night that Hamas's terror tunnels in Gaza should have been taken care of long before Operation Protective Edge.
Nevertheless, Samia told Channel 2 News, Hamas was dealt a huge blow by the IDF during the operation.
"The Israeli public is not yet fully aware of the damage that Hamas suffered during the operation. Hamas will now agree to arrangements that it has previously not agreed to. The damage to the tunnels was a fatal one," he said.
"The Prime Minister's instructions to the IDF regarding the tunnels were as clear as ever. We took care of every tunnel we were aware of, but it would not be responsible to say that there are no more tunnels," added Samia.
He continued, "We should have taken care of the tunnels before the operation. The political leadership should have enabled the IDF to take care of the tunnels and to initiate a preventive campaign against the tunnels - regardless of the rocket attacks and the abduction and murder of the three teenage boys. In any future agreement with Hamas, it should be prohibited from digging tunnels toward Israel, and if such are found - the political leadership should allow the army to take care of them immediately."
Meanwhile, footage has surfaced from an exclusive interview given by Hamas terrorists to Lebanon's Al Mayadeen TV, in which they showcased a terror tunnel.
Talks are continuing in Cairo between Israeli and Palestinian diplomatic teams, but an Israeli official said that the chances of a long-term truce are very slim.