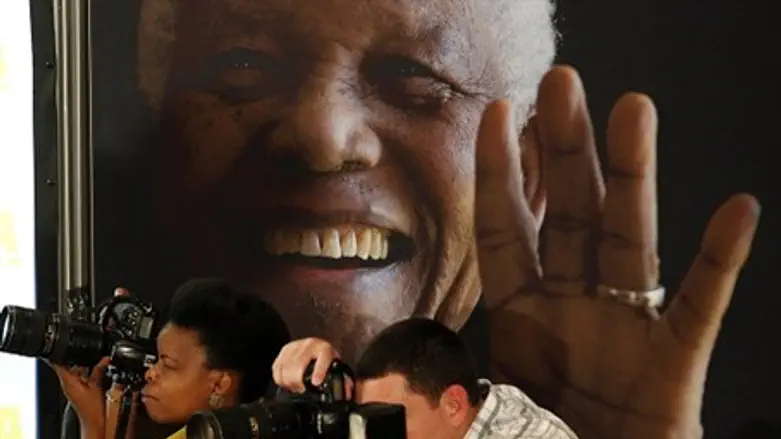 South Africa (illustration)
Reuters
The South African Jewish Board of Deputies announced on Thursday that it will lay charges against a local official following a post on his Facebook page in which he called for an "eye for an eye against Zionist aggression".
The board's David Sacks confirmed to the News24 website that charges will be laid and a formal complaint will be lodged with the South African Human Rights Commission against Western Cape Cosatu secretary general Tony Ehrenreich.
Ehrenreich wrote on his personal Facebook page, "Its time for an Eye for an Eye against Zionist aggression [sic]", according to News24.
Later, he added, "We have seen in our own country that the [South African] Jewish Board of deputies have arranged gatherings to pledge their allegiance to the killing of Palestinians."
"We are aware that the Jewish Board of Deputies has been fascilitating and supporting the funding of the Isreali Army as well as getting SA youth to join the killings in Gaza [sic]. This makes the Jewish Board of Deputies complicit in the murder of the people in Gaza," Ehrenreich wrote.
"The time has come to say very clearly that if a woman or child is killed in Gaza , then the Jewish board of deputies, who are complicit, will feel the wrath of the people of SA with the age old biblical teaching of an eye for an eye. The time has come for the conflict to be waged everywhere the Zionist supporters fund and condone the war killing machine of Isreal [sic]," he wrote, according to News24.
The Cosatu leader told News24 that he was "completely against violence" but wanted "concomitant action" taken against the board. Ehrenreich also denied that he was anti-Semitic.
"There should be relative steps taken against Israel," he said.
He said that he meant that more "decisive action" must be taken against those who support Israel's actions in the conflict.
The board, however, said the "inflammatory post" does indeed incite violence and foments hatred against the elected representative spokesbody for the South African Jewish community and all those associated with it.
"This is [a] flagrant violation of South African legislation prohibiting hate speech, particularly that which constitutes incitement to cause harm," Sacks told News24.
He added that allegations that the board was funding the Israeli army and sending South African youths to fight in the war are "baseless".
South Africa has frequently been critical of Israel and has claimed that it is applying a policy of "apartheid" towards Palestinian Arabs, and those incidents have been more frequent during Israel's self-defense operation in Gaza.
This week, South Africa's former President, Thabo Mbeki, called for a boycott of Israeli goods to show solidarity with Palestinian Arabs.
The public should mobilize against Israel so that it "does pay a price for the position that it is taking", Mbeki said.
The comments came a week after South Africa's current President, Jacob Zuma, voiced outrage over civilian deaths in Israel's campaign in Gaza but distanced himself from calls to expel the Israeli ambassador.
South Africa's Foreign Minister has in the past slammed Israel's plans to build new homes in Jerusalem, saying she was "losing sleep" over the size of "Palestine".
Most recently, Zuma's party compared Israel's airstrikes on Gaza to the actions of the Nazis during World War II, evoking outrage from Jewish groups in the country.