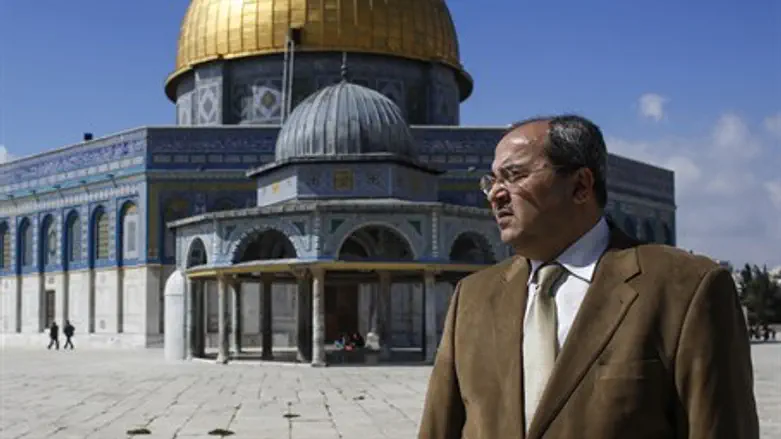 MK Ahmed Tibi
Flash 90
The Ra'am-Ta'al party has sent a letter to Attorney General Yehuda Weinstein, asking him to launch a formal investigation against Prime Minister Binyamin Netanyahu, Defense Minister Moshe Ya'alon and Chief of Staff Benny Gantz over "war crimes and crimes against humanity in Gaza" during Operation Protective Edge.
Ra'am-Ta'al includes MKs Ahmed Tibi, Ibrahim Sarsour, Taleb Abu Arar and Masud Ghnaim.
In the letter, the party accused Israel of violating international law during its operation in Gaza, claiming that the IDF was disproportionate in distinguishing between combatants and civilians.
The party also noted that a copy of the letter had been sent to international legal bodies so that an investigation is launched against the political and military leadership in Israel on charges of war crimes and crimes against humanity.
The members of Ra'am-Ta'al all have a history of anti-Israel statements. Tibi recently followed in the footsteps of MK Hanin Zoabi (Balad), who insisted that those who abducted the three Israeli teens on June 12 were "not terrorists."
"I blame the government of Israel, Naftali Bennett and the rabbis who incited to murder Palestinians," he said, accusing Israel for the murder of Mohammed Abu Khder, the 16-year-old from Jerusalem's Beit Hanina neighborhood who was found burned to death last Wednesday.
Several weeks before that, Tibi spoke to Hamas's Palestine magazine, alleging that the group is "not a terror organization."
Sarsour has in the past praised a hate speech against Israel by Hamas leader Ismail Haniyeh calling for armed resistance against Israel. Sarsour also termed Jews "prophet murderers."
A short time later, he declared that the Biblical forefathers of the Jewish nation actually practiced Islam. In addition, Sarsour has previously met with jailed terrorists, including a Hamas leader responsible for the Park Hotel massacre.