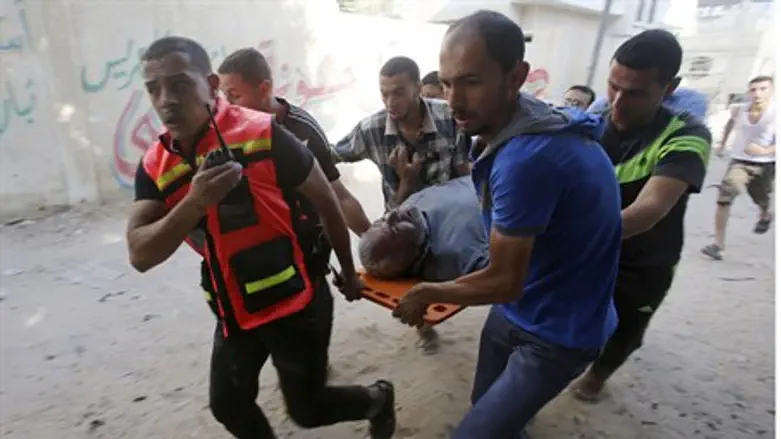 Gaza casualties: civilians or terrorists?
Reuters
The Foreign Press Association on Monday lodged a strong protest accusing the Palestinian Islamist group Hamas of harassment and of threatening foreign reporters working in Gaza.
The association for journalists working in Israel and the Palestinian territories said Hamas authorities and their representatives employed "blatant, incessant, forceful and unorthodox methods" against visiting international journalists covering the Israel-Hamas conflict in Gaza.
The FPA, in a statement, protested "in the strongest terms".
"The international media are not advocacy organizations and cannot be prevented from reporting by means of threats or pressure, thereby denying their readers and viewers an objective picture from the ground," it said.
"In several cases, foreign reporters working in Gaza have been harassed, threatened or questioned over stories or information they have reported through their news media or by means of social media."
Hundreds of foreign journalists travelled to Gaza during more than a month of fighting between Israel and the Hamas, with perhaps 10 percent reporting difficulties from the authorities, FPA said.
Those who experienced threats were reluctant to speak publicly for fear of repercussions.
It said one photographer spoke of being beaten up and having a camera smashed; a news photographer had a camera confiscated for three days and Hamas also asked people to remove tweets and YouTube videos.
A European company was also threatened in the middle of the street when filming an anti-Hamas demonstration.
The FPA said Hamas was also trying to put in place a "vetting" procedure that would, in effect, allow for the blacklisting of specific journalists.
"Such a procedure is vehemently opposed by the FPA," it said.
Several news organizations reported receiving a request Monday from Hamas for the name of journalists, their company, where they are based, their contact details and the name of their translator to "facilitate and organize" their work.
More and more reports emerging from Gaza in recent days back the Israeli government's claims that Hamas is deliberately carrying out attacks from within densely-populated civilian areas.
An Indian TV report exposed terrorists setting up and launching a rocket just meters away from a hotel where members of the international media were staying, in the middle of a crowded residential area.
Like the tiny handful of other journalists who have defied Hamas orders not to report anything negative about them, the NDTV report was only aired after the news team had left the Gaza Strip and were free from any risk of intimidation or worse at the hands of Hamas's security forces.
A France 24 TV journalist - who famously ducked for cover during a live interview when a Hamas rocket was fired right next to him - has also gone on the record to report how the rocket which caught him off guard was launched in a crowded civilian area and right in front of a UN building.