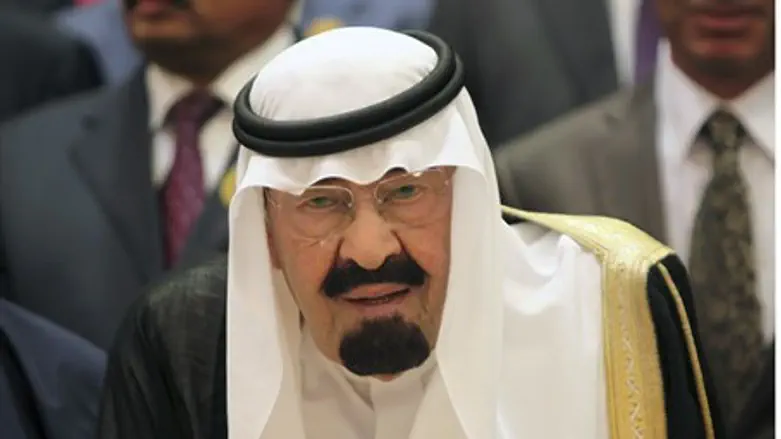 Saudi Arabia's King Abdullah
Reuters
Saudi Arabia and the United Arab Emirates (UAE) have played a significant role in returning Hamas to the negotiating table over a permanent ceasefire, a security official revealed Sunday on condition of anonymity, after pledging to contribute money to rebuild Gaza. 
Hamas initially insisted on a financial plan backed by their longtime ally, Qatar, to recover from the conflict, the source stated to Walla!.
However, since Jerusalem and Cairo both aim to lessen Qatar's stronghold on the terror regime - as well as the influence of Qatar-based Hamas leader-in-exile Khaled Meshaal - Hamas then turned to Riyadh and contacts in the United Arab Emirates for assistance after Operation Protective Edge. 
The Saudi funding is conditional on the promise that the funds will be used for legitimate civilian projects only - specifically barring the rebuilding of terror tunnels. 
It is unclear what system of checks and balances exist to ensure that promise is kept will be in place, however, and the fact remains that Hamas routinely sets up headquarters in civilian buildings, and has stored rockets and booby traps in schools and hospitals. 
Earlier Sunday, the Palestinian news agency Sawa revealed that Hamas was able to funnel millions of dollars into Gaza over the past two months despite the IDF crackdown - and that two months' salary was paid in full to its terror "military wing," the Al-Qassam Brigades, in the early hours of Sunday morning. Additional funds will also be paid to Hamas government officials.
Analysts suspect that the funds - which seemingly appeared out of nowhere - may have been procured, at least in part, from Saudi and UAE donors.
The revelation is surprising, considering both Riyadh and the UAE have also heavily backed Egypt's crackdown on the Muslim Brotherhood, which has been closely linked with Hamas. Hamas itself was blacklisted in Egypt earlier this year.
Saudi Arabia has not only donated billions of dollars to prevent Muslim Brotherhood leader Mohammed Morsi from regaining power in Egypt, but has also taken a strong stance internationally against his supporters - a move which, by extension, would also contradict support for Hamas terror. 
The Rafah factor
Hamas has placed all its hopes on Egypt reopening the Rafah crossing to Sinai, the security official stated, after the Egyptians pledged to give Hamas renewed access to the passageway on the condition that it be monitored by Palestinian Authority (PA) officials. 
That access would have been revoked unless Hamas accepted another ceasefire, the official noted. 
"Hamas insists on economic dividends," he said. "Among them is the Rafah crossing and the second is the expansion of the permitted fishing area - a point Israel has apparently agreed to implement." 
Egypt's consent to discuss the opening of the Rafah crossing, subject to some reservations, was made ​​after demand for the establishment of a seaport in Gaza provoked strong opposition both from Israel and from Egypt, for both political and security reasons.
Israel and Egypt are united in their assessment that opening a seaport would allow a steady flow of foreign-backed weapons to enter the Hamas territory; in addition, its construction would be a major political victory for Hamas.
Turkey and Norway are reportedly behind the Hamas seaport initiative, and acquiescing to the demand would constitute a step up in Hamas's international legitimacy. 
Egypt, under recently-elected President Abdel Fattah al-Sisi, has moved to isolate Hamas, accusing it of backing the Muslim Brotherhood on its own territory. 
Egypt's foreign ministry has condemned Israel's ground offensive but also lashed out at Hamas, saying the Islamist movement could have saved dozens of lives had it accepted Cairo's proposal.
Hamas has, for its part, expressed deep enmity for Egypt, and has reportedly demanded it be replaced as intermediary.