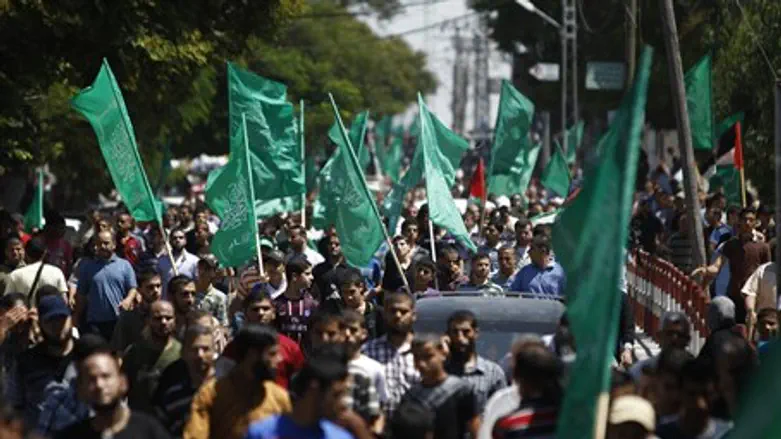 Hamas "victory rally" in Gaza (file)
Reuters
A senior Hamas source has revealed the terrorist group's antagonism both towards Egypt's mediation in truce talks regarding the ongoing conflict with Israel, as well as towards the Arab League.
The source, Mustafa Sawaf, is considered a close confidant of the Hamas leadership. He advised the Palestinian negotiation team in Cairo, which is comprised of Hamas and Palestinian Authority (PA) members, to go home immediately.
Sawaf recommend the team not to agree to Egyptian involvement, defining the Egyptian intermediary as "the basic delaying source preventing an agreement."
An alternate intermediary should be sought out, wrote Sawaf on his Facebook page, recommending a third-party that would bring to fruition the Hamas demands, and open the Erez and Rafah Crossings to Israel and the Sinai.
Sawaf likewise advised the Arab League Secretary-General Nabil El-Araby not to make a solidarity visit to Gaza accompanied by a delegation of Arab foreign ministers.
"El-Araby will not be received warmly, and Gaza residents will hit him and his delegation," threatened Sawaf.
Explaining the enmity to the apparent show of solidarity, Sawaf said Arab residents of Gaza view the Arab League as "partners to the slaughter," in an accusation of support for Israel's counter-terror Operation Protective Edge; Sawaf did not provide examples of such support.
Perhaps partially explaining the response are El-Araby's statements late last month, in which he called on Hamas to accept an Egyptian-brokered truce and agree to a ceasefire ending its attacks via rocket fire and terror tunnels.
"No concessions on any demands"
The negotiations in Cairo attempting to forge a truce between Israel and Hamas appear on the brink of collapse, as the terror group is refusing to curtail its demands, and renewed rocket fire has reportedly put talks on hold.
Hamas spokesperson Fawzi Barhoum declared on Saturday, a day after the 72-hour ceasefire ended and Hamas promptly returned to firing rockets on Israeli civilian centers, that "there's no going back, and the struggle will continue at full power."
In terms of the negotiations, Barhoum stated "there won't be a concession on any demand." At the same time, the Hamas spokesperson said "Israeli stubbornness won't help it at all," and that talks will not continue forever.
The demands that Hamas is unwilling to compromise on include various threats to Israel's security, such as an airport in Gaza, a Gaza sea port, open border crossings and terrorist releases.
At least as far as the border crossings are concerned, it appears that moves are being made to skirt Israel and have a direct agreement between Hamas and Egypt on the Rafah Border Crossing between Gaza and Sinai.
A Palestinian source involved in the Cairo negotiations revealed on condition of anonymity that Egypt has reached a draft agreement with Hamas and the PA. The draft would have Egypt open the Rafah crossing, putting it under PA and not Hamas control.
However, following the renewed rocket fire by Hamas on Friday, Israeli officials stated negotiations would not continue until the rockets halted. A senior member of the Hamas and PA negotiating team told AFP they had given Israel until Sunday at 1 p.m. to return to negotiations before they would leave Cairo.
Likewise, Hamas deputy leader Moussa Abu Marzouk said Saturday "the coming 24 hours will seal the fate of the entire negotiations. We aren't interested in an escalation, but we don't accept that there is no response to our demands."