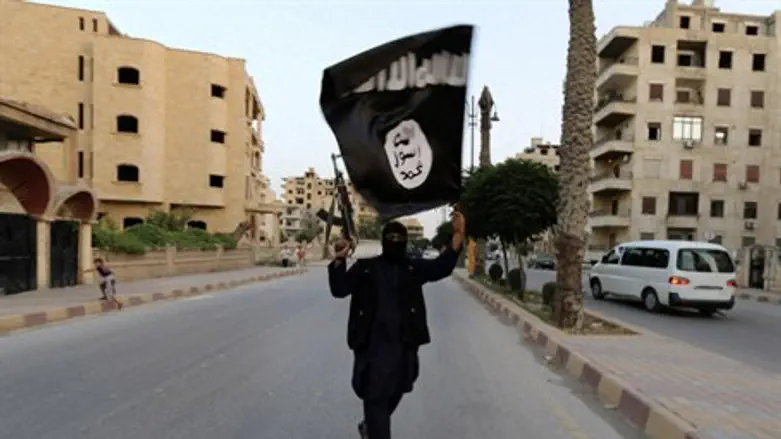 ISIS fighter in Raqqa, Syria
Reuters
Hundreds of women from the Yazidi religious minority have been taken captive by members of the Islamic State, The Associated Press (AP) reported on Friday.
Kamil Amin, the spokesman for Iraq's Human Rights Ministry, said hundreds of Yazidi women below the age of 35 are being held in schools in Iraq's second largest city, Mosul.
He said the ministry learned of the captives from their families.
"We think that the terrorists by now consider them slaves and they have vicious plans for them," Amin told The Associated Press. "We think that these women are going to be used in demeaning ways by those terrorists to satisfy their animalistic urges in a way that contradicts all the human and Islamic values."
The U.S. has confirmed that the Islamic State group has kidnapped and imprisoned Yazidi women so that they can be sold or married off to extremist fighters, said a U.S. official who spoke on condition of anonymity because the information came from classified intelligence reports.
There was no solid estimate of the number of women victimized, the official said.
Tens of thousands of Yazidis fled when the Islamic State group earlier this month captured the northern Iraqi town of Sinjar, near the Syrian border. The Yazidis practice an ancient religion that the Sunni Muslim radicals consider heretical.
Over 200,000 Yazidi have been exiled from Iraq so far, forced to flee due to the Islamic State's campaign of ethnic cleansing.
White House spokesman Josh Earnest said on Thursday that Washington was "very concerned" over the "humanitarian catastrophe" developing in Iraq.
U.S. President Barack Obama said on Thursday he had authorized "limited airstrikes" against the Islamic State.
The United Nations Security Council issued a statement Friday condemning targeted attacks against Iraq's minorities, adding that any widespread attacks against civilian populations based on ethnic, religious or political background may be considered a crime against humanity for which those responsible must be held accountable.
(Arutz Sheva's North American desk is keeping you updated until the start of Shabbat in New York. The time posted automatically on all Arutz Sheva articles, however, is Israeli time.)