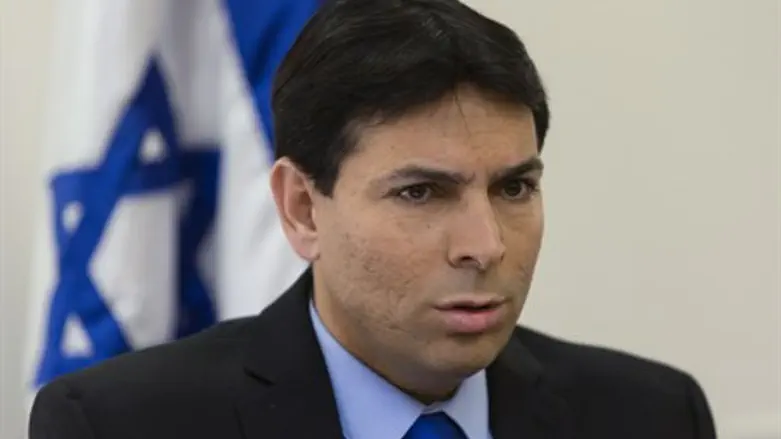 Danny Danon
Flash 90
MK Danny Danon (Likud) launched a scathing attack against Prime Minister Binyamin Netanyahu on Wednesday, saying Netanyahu was acting like "the contractor of the left".
Speaking to Arutz Sheva, Danon said that many people now admit that he was correct in his criticism against Netanyahu over the operation in Gaza.
Netanyahu several weeks ago publicly sacked Danon from his position as Deputy Defense Minister due to "statements expressing a lack of faith in the government and in its prime minister in particular."
"A month ago when I said it was irresponsible to accept the ceasefire I received a ton of criticism, and now everyone acknowledges that it was necessary to take care of Hamas's terror tunnels," Danon said.
"Unfortunately this operation is not complete, the Prime Minister decided to stop it and allow Hamas to determine how things are handled," he continued. "Now we are waiting for Hamas to speak, until the next confrontation when then they will be better prepared."
Danon warned that by stopping the operation now, the State of Israel was letting Hamas strengthen itself and may pay dearly for this in the future.
"We have had dozens of deaths, we paid a high price and now we are back to square one, the source of evil in Gaza is still there," he said. "All the talk about demilitarization and international forces, it will not happen, and Hamas remains to rehabilitate itself."
Danon declared that the Likud movement would not allow Netanyahu to be a contractor of the left.
"There is a fundamental disagreement between Tzipi Livni, who controls the Cabinet, and the spirit of me and my friends," he said. "To date the government has not responded to the murder of the three boys, there was no construction in response to the murder. We also started this operation because we were dragged into it."
Danon added that if Netanyahu "continues to follow the desires of Tzipi Livni - release terrorists, not respond to the murder of boys, start an operation and then cave and end it - he will not be able to continue to operate from within the Likud."
Danon has several times in the past called on Netanyahu to fire Livni.
Most recently, he said that Netanyahu "must dismiss Tzipi Livni and lead the Israeli government in a determined struggle against the real aggressor, Hamas."
"Tzipi Livni, who still suffers from illusions of negotiations, directs the Cabinet with a defeatist attitude rather than a nationalist spirit determined to lead the fight against terrorism and their collaborators," he said at the time.