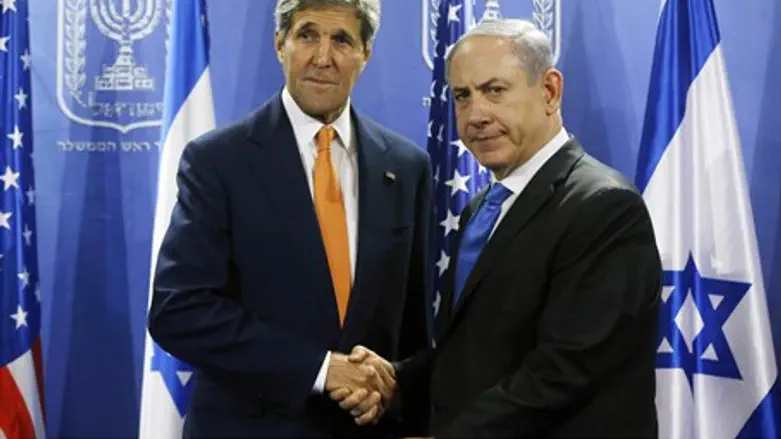 John Kerry meets with Binyamin Netanyahu as c
Reuters
An unnamed "senior Israeli official" has claimed that a call between Prime Minister Binyamin Netanyahu and US Secretary of State John Kerry was cut off on Sunday because Netanyahu had to call a "bereaved family" before the funeral of their son - presumably a soldier killed fighting in Gaza.
Kerry had reportedly asked Netanyahu to share his condolences with the family.
Walla! news' diplomatic correspondent Amir Tibon claimed in a tweet that the prime minister and Kerry actually continued their conversation on Tuesday night, two days later.
Previous reports had simply claimed that a call between the two had been abruptly cut off mid-way, with State Department spokeswoman Jen Psaki admitting to reporters on Tuesday that the call was disconnected due to an unspecified "communications issue".
The reports gained much interest as they were seen as yet another illustration of the ever-growing tensions between Netanyahu and the Obama Administration, which have flared up over Israel's military operation in Gaza.
Kerry's attempt to engage with Hamas allies Qatar and Turkey to broker a ceasefire - snubbing Egypt, Israel and the Palestinian Authority, who were not invited to the talks - and the subsequent truce proposal seen as basically a carbon-copy of Hamas's demands, angered many Israelis.
And an alleged transcript of a previous conversation between Netanyahu and President Obama caused a major stir after purporting to show the US president taking a distinctly unfriendly tone, and even cutting the Israeli PM off mid-sentence.
Israeli and US officials quickly scrambled and said that the leaked transcript"bore no resemblance to reality." Deputy State Department spokeswoman Marie Harf also brushed off the leaked transcript, saying it was as "complete cr*p".