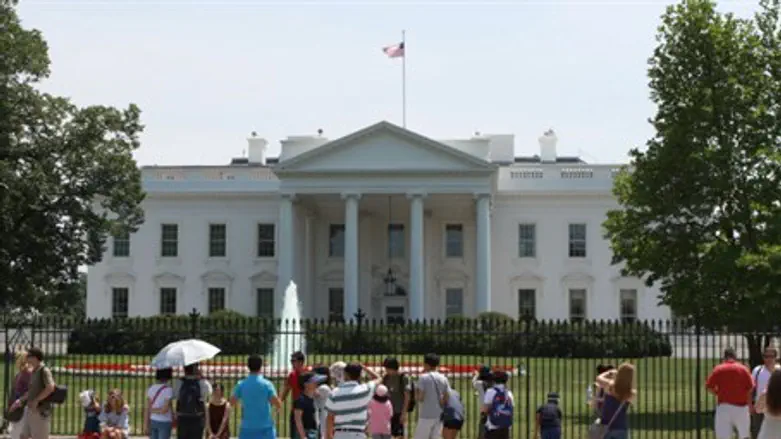 White House
Flash 90
The White House has condemned an attack by Hamas terrorists on IDF forces, in which two soldiers were killed and another feared abducted, as a "barbaric" violation of a humanitarian ceasefire which began just hours before.
Second Lieutenant (Platoon Leader) Hadar Goldin, 23, from Kfar Saba went missing during a fierce firefight on the outskirts of Rafah in Gaza.
Following the attack, Israel announced that the truce was over.
"The Israelis of course are reporting this morning that that ceasefire was broken," White House spokesman Josh Earnest told CNN. "And that apparently Hamas individuals used the cover of a humanitarian ceasefire to attack Israeli soldiers and even to take one hostage. That would be a rather barbaric violation of the ceasefire."
And the White House's Deputy National Security Adviser Tony Blinked called on world leaders to join condemnations of Hamas's actions.
"This is an outrageous action and we look to the rest of the world to join us in condemning it," he told MSNBC television.
The ceasefire was a joint US-UN initiative aimed at giving civilians "a much needed reprieve", a top US diplomat had said.
Following the attack Israeli Prime Minister Binyamin Netanyahu called US Secretary of State John Kerry to confirm that "despite his joint statement with UN Secretary General Ban Ki-moon, according to which assurances had been received from Hamas and the other terrorist organizations in the Gaza Strip regarding a ceasefire from 08:00 this morning, the Palestinians had unilaterally and grossly violated the humanitarian ceasefire and attacked our soldiers after 09:00."
Kerry had said earlier that once the ceasefire was under way, Israeli and Palestinian representatives, including from Hamas, would begin talks in Cairo on a more durable truce.
Unsurprisingly, talks to discuss a long-term ceasefire have been suspended following the ceasefire breach. Egypt, which was to have act as a mediator in the talks, told the Islamic Jihad terrorist group Friday it is delaying talks.
"The Egyptians contacted the Islamic Jihad and said Israel told them that a soldier has been captured," the group's deputy leader Ziad al-Nakhale told AFP. "The talks have been postponed."