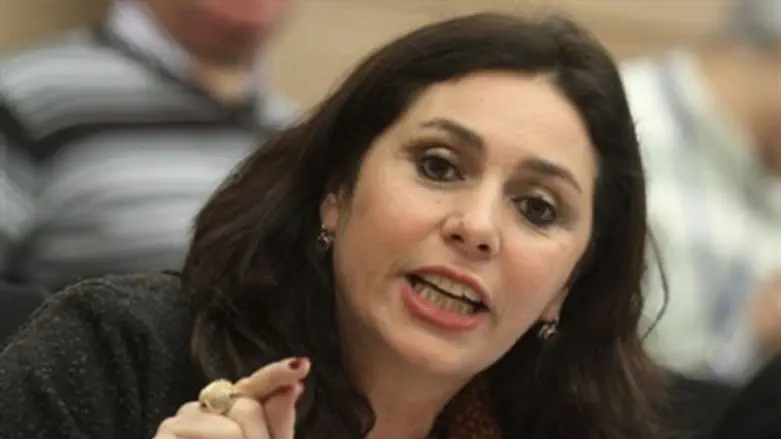 MK Miri Regev
Israel news photo: Flash 90
MK Miri Regev made a strong statement against further cease-fire attempts Friday, after Israel and Hamas allegedly accepted a US-brokered ceasefire - and terrorists began firing rockets on Israel hours later. 
"We call on the Prime Minister to return Israel her sovereignty," MK Miri Regev (Likud) stated Friday. "We must stop these cease-fires - they give over a message of hesitancy."
"We must not accept a single condition in a cease-fire," she continued. "We must either demilitarize or retake Gaza; there is no middle ground. Now is the time." 
Housing Minister Uri Ariel (Jewish Home) joined the chorus of critical voices Friday, relating also to Friday afternoon's reported abduction of an IDF soldier by Hamas or Islamic Jihad terrorists. 
"We give strength to the IDF soldiers, who are now out risking their lives to locate a missing soldier," Ariel stated. 
"The concept of 'humanitarian ceasefire' has smacked us in the face over and over again," he continued. "I call on the Prime Minister to convene the government and make a decisive and unilateral plan of action to destroy Hamas once and for all." 
Regev's and Ariel's statements surface after weeks of similar statements from ministers, many of whom have conveyed disappointment over Prime Minister Netanyahu's willingness to dabble in the demands of the international community regarding a cease-fire. 
Netanyahu sharply lashed out at ministers over their comments on Wednesday, insisting that criticism during war is "inappropriate" and urging ministers to present a united front for the public. 
"Criticism from home during a war is intolerable," Netanyahu reportedly said. 
Be aware of what you say and watch what you're doing. The Cabinet ministers are the ones who need to serve as a model for the public as a whole; during this, the people have expected us all to rally behind the end goal." 
"We are stronger the more united we are," he added.