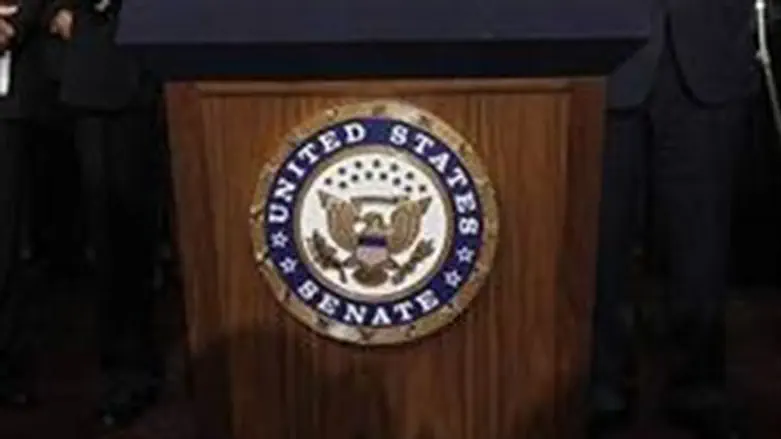 US Senate logo
Reuters
The Senate has passed a resolution that states the Senate's support of Israel's right to defend itself from Hamas rocket attacks and condemns a biased United Nations report, reports The Hill.
The resolution, passed Tuesday, was passed through a unanimous consent agreement. It also condemns a United Nations Human Rights Council report that stated Israel had committed human rights violations against Palestinian Arabs.
Senate Majority Leader Harry Reid (D-Nev.) said that UN report was "disgusting" and failed to recognize that Israel is defending itself from attacks started by Hamas, a terrorist organization.
"I've always been a supporter of the UN but what I saw last week disgusted me," Reid was quoted as having said of the report. "It was so one-sided."
Reid said Senate Minority Leader Mitch McConnell (R-Ky.) was a co-sponsor of the resolution.
"Republicans are united in our support of Israel's defense, and this morning my colleagues will explain our opposition to any effort to force a ceasefire on Israel that does not further its security objectives," McConnell said, according to The Hill.
"Israel's right to defend itself should be affirmed," he added.
"I condemn Hamas terrorism," Reid said. "We stand with Israel and its right to defend itself."
The resolution comes amid tensions between Israel and Washington over a ceasefire with Hamas.
On Tuesday, a "senior U.S. official" leaked an audio recording of a telephone conversation between President Barack Obama and Prime Minister Binyamin Netanyahu to Channel One.
In the 35-minute conversation, which took place on Sunday, Obama appears downright hostile at points, and even cuts off Netanyahu in the middle of his protestations over a one-sided truce proposal which would have seen Hamas receive all its key demands, but that Israel ultimately rejected.
The United States' Ambassador to Israel, Dan Shapiro, later emphatically rejected the authenticity of the audio tape. Netanyahu's office did the same, denying the conversation ever took place.
There has also been tension surrounding the efforts by Secretary of State John Kerry to secure a ceasefire between Israel and Hamas.
Kerry has been the subject of ridicule in the Israeli press after his attempts to broker a ceasefire deeply offended Israelis living under the constant threat of rocket fire from Hamas.
On Wednesday, deputy State Department spokeswoman Marie Harf hit out against the criticism of Kerry in Israel.