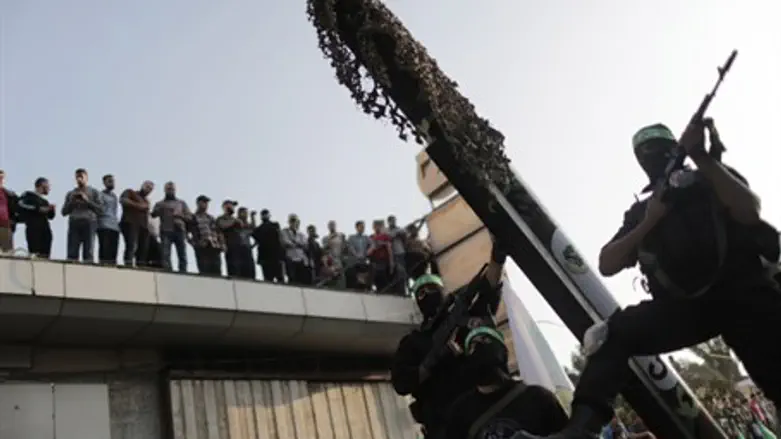 Hamas terrorists parade rockets
Flash 90
Israel expressed "deep disappointment" Wednesday after Chile, El Salvador and Peru recalled their ambassadors over its military campaign in Gaza, saying they are encouraging Hamas in its attacks on the Jewish state, according to AFP. 
On Tuesday, El Salvador's foreign ministry recalled its envoy for urgent consultations, speaking of what it called  "indiscriminate" Israeli bombing of Gaza.
The same day, Chile ordered its ambassador home in response to what it said was a "new outbreak of Israeli military operations" and condemned what it called the "collective punishment" of Palestinians in Gaza.
And Peru did the same, saying it "deeply regretted" Israel's "interruption of a ceasefire with new military operations against Gaza" while also
criticising rocket fire from Gaza into Israel.
Israeli foreign ministry spokesman Yigal Palmor said in a statement that these moves constitute "encouragement" for Hamas, a group recognized as a terror organization by many countries around the world.
"Israel expects countries who oppose terrorism to act responsibly and not to hand terrorists a prize," Palmor stated. "So far, every time Israel accepted plans for establishing a ceasefire and restoring calm, it was countered by Hamas's sustained rocket fire."
"El Salvador, Chile and Peru would have been much better advised to promote the international move intended to assist Israel in its efforts to defend innocent civilians and instate a durable ceasefire with the demilitarization of Gaza," he added. 
Two more Latin American countries, Brazil and Ecuador, recalled their envoys last week.