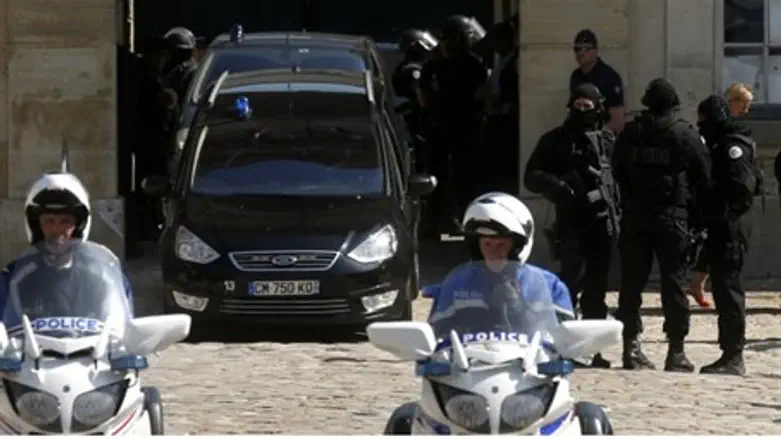 Nemmouche transported by French police
Reuters
France handed over to Belgium on Tuesday the man suspected of carrying out a deadly shooting in May at the Jewish Museum in Brussels.
A spokeswoman for the Belgian police told AFP that Mehdi Nemmouche, a 29-year-old Frenchman of Algerian descent, had been brought from Paris to Brussels.
"He will be interrogated," added spokeswoman Tine Hollevoet, who declined to give further details.  
Belgian media said Nemmouche faced four and a half hours of questioning over the killing of a Jewish couple, a Frenchwoman, and a Belgian man, at the museum on May 24, but that he remained largely silent.
His lawyer Sebastien Courtoy told the media that Nemmouche was irritated by the leaking to the press of statements he has made during police questioning in the last two months.
"He doesn't want to read his statements the next day in the press," Courtoy said. "That is the reason, and the only reason, why he's refusing to answer questions."
"We want investigators who violate the law and organize these leaks to be withdrawn," the lawyer added.  
France's final appeals court last week cleared his extradition for questioning over the attack against the central city museum in broad daylight on a Saturday afternoon.
Nemmouche initially had filed an appeal against his extradition but then dropped his objection after guarantees that he would not be sent on to another country such as Israel from Belgium, according to a lawyer in France.
The shooting - the first such attack in Brussels in three decades - raised fears of a resurgence of anti-Semitic violence in Europe and of terror attacks from foreign fighters returning from Syria.  
Nemmouche had spent more than a year fighting with Islamist extremists in Syria.
"I hope not to have to be in his presence," said Philippe Blondin, a director of the Jewish Museum in Brussels.
Nemmouche was arrested on May 30 in the southern French city of Marseille after being spotted on a bus from Brussels.  
A revolver and Kalashnikov rifle were found in his luggage, resembling weapons caught on a museum video-camera, as was a portable camera.