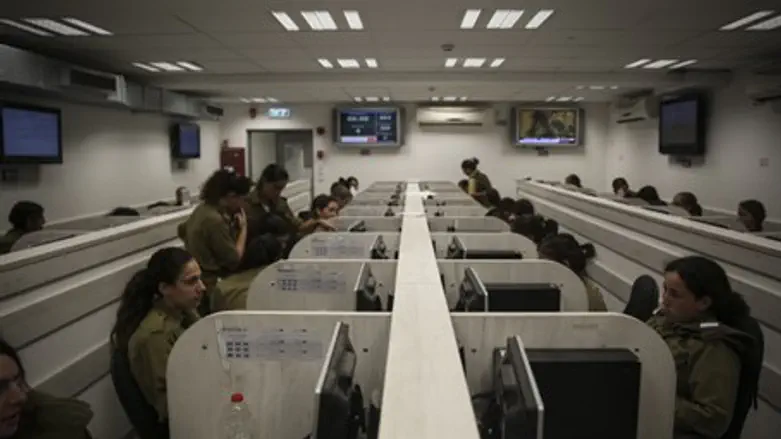 Home Front Command call center
Flash90
The Home Front Command (HFC) call center handles hundreds of calls every day, helping citizens cope with the constant threat of rocket fire on their cities. 
Arutz Sheva visited the HFC call center to get a glimpse of how the center's staff help thousands of Israelis through the Hamas rocket fire. 
"This center is operated by soldiers at 100 working stations," Captain Lenny Mamman, Commander of the HFC call center, stated to Arutz Sheva. 'It is in service 24/7, 365 days per year."
"The center operates in seven main languages; these are the most spoken languages in Israel, which are Hebrew, English, Arabic, Amharic [for the Ethiopian community], Russian, French, and Spanish," she continued.
"We contact specialists and work with people speaking other languages so in case someone calls and has a question in Japanese, Dutch, German, or any other language, we work with each case individually." 
The call center is always abuzz with calls, according to Captain Mamman. 
"There are 300 soldiers who work here on shifts around the clock," she said, noting that each shift is between 8-10 hours. "Most of the calls regard sirens in different geographical areas, or [questions like] 'was there a hit in my area?', 'what are the specific instructions in case of a siren?', and where public shelters are."
Mamman added that the call center employs a mix of soldiers - from new recruits to reservists, from enlisted soldiers to specialists. Psychological staff, for example, give support to distressed callers. 
Mamman also elucidated a few different electronic systems the HFC uses for their work. 
"The first is the REDWEB system, which monitors each and every siren," she noted. "Soldiers are immediately updated about a certain siren in a specific area."
"Another system is the CRM, the Customer Relation Manager," she continued. "Each resident is identified by his ID calling number and we have their full call history [. . .] in order to give the best and most specific information to the caller."
A third system, she pointed out, is on a set of television screens which show the number of calls coming in at any given moment to the center.
credit: פלאש90
credit: פלאש90
credit: פלאש90
credit: פלאש90
credit: פלאש90
credit: פלאש90