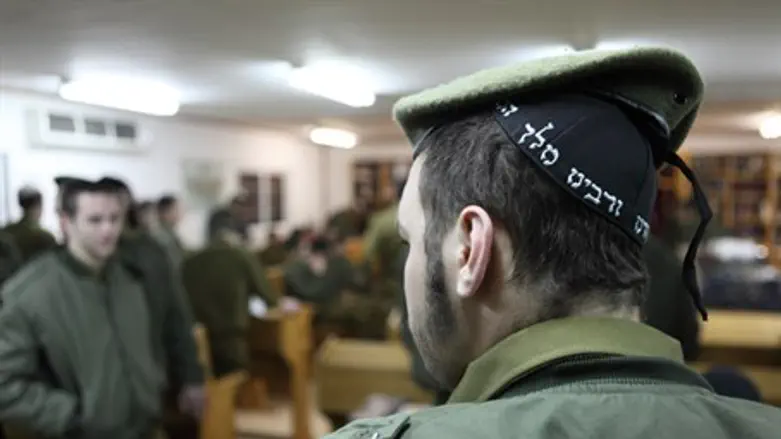 Hareidi soldiers (illustrative)
Flash90
Hareidi extremists attacked a reserve soldier returning home from the front Monday, according to several reports, as he came home to Beit Shemesh to visit his parents and pray at a local synagogue. 
"His two children were very frightened," an eyewitness told Walla! news Tuesday. "The extremists cursed him, threw stones at his car, and ordered him to leave the neighborhood." 
The incident unfolded on Hillel street at about 10:00 pm, according to the report. The extremists called the reservist a "Nazi" and "vermin." 
Several other eyewitnesses told Arutz Sheva on Tuesday that friends and neighbors of the reserve soldier condemned and apologized for the incident, helped him recover and offered to pay for the damage. 
The District Police has opened an investigation and "are expected to make arrests." 
Several hareidi MKs sharply criticized the incident Tuesday, with some even going as far as calling the extremists "terrorists." 
"There are limits," Shas Chairman Aryeh Deri said Tuesday morning. "The attack by Jewish extremists on a soldier as he prayed in synagogue is an act of terrorism." 
"They should be treated as we treat terrorists," he continued. "A hand that raises itself against a soldier should be smacked." 
MK Yaakov Litzman (United Torah Judaism) said in a radio interview this morning on Kol Yehudi that "there is no sane person who does not condemn the attack on an IDF soldier in Beit Shemesh last night." 
"This is a serious crime, a terrible injustice to the public and an attempt to defame an entire community," he continued. "The police should take care of these hardened criminals."
Beit Shemesh, some neighborhoods of which have become hotbeds of hareidi extremism, presents a particular problem for the religious-Zionist community, which has been faced incitement from some quarters which has on occasion spilled into violence. 
In recent months, the IDF has confirmed that officers and soldiers living in hareidi neighborhoods - many of them themselves hareidi - have been subject to physical and verbal abuse.