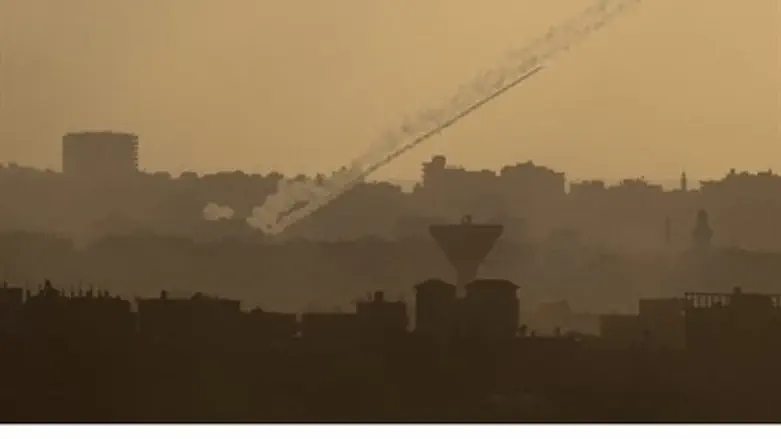 Rocket barrage from Gaza
Reuters
Hamas fired rockets at central Israel around 10 p.m. Saturday, making a mockery of a four-hour Israeli ceasefire extension that began two hours earlier.
Meanwhile, Israel's Diplomacy and Security Cabinet has voted to extend the ceasefire by a further 24 hours in response to UN requests, a security source told AFP on condition of anonymity. The truce will end on Sunday night at 9 p.m.
Hamas for its part has rejected the ceasefire extension by Israel, demanding Israeli troops withdraw first.
No humanitarian ceasefire is valid without Israeli tanks withdrawing from the Gaza Strip and without residents being able to return to their homes and ambulances carrying bodies being able to freely move around in Gaza," Hamas spokesman Fawzi Barhum said in a statement.
Hamas's Ezzedine al-Qassam brigades said in three separate statements that they had fired two rockets at Tel Aviv in central Israel, five at Nachal Oz in the south, and another five at the southern city of Ashkelon.
Two rockets were reportedly intercepted by Iron Dome anti-missile batteries over Ashkelon. Other rockets had been aimed at the Shaar Hanegev area, near Gaza. No missile seems to have reached Tel Aviv.
Terrorists fired mortar shells at Israeli communities near Gaza shortly after 8:00 p.m. Saturday, after Israel approved a four-hour extension of the "humanitarian ceasefire" that both sides honored for 12 hours, from 8:00 a.m. To 8:00 p.m.
Gazans used the respite to try and dig out bodies from the rubble of destroyed neighborhoods in Beit Hanoun, Shejaiya and elsewhere. The total death toll in Gaza in 19 days of fighting is reportedly over 1,000.
The military has confirmed that five IDF soldiers were killed in several incidents during the last 24 hours.
They are First Sergeant Amit Yeori hy"d, 20, of Jerusalem; Lt. Roy Peles , 21, of Tel Aviv, First Sgt. Avraham Grintzvaig, 21, of Petah Tikva, First Sgt. Gal Bason, 21, of Holon, and First Sgt. Guy Boyland, 21, of Genosar.
Clockwise from upper left: 1st