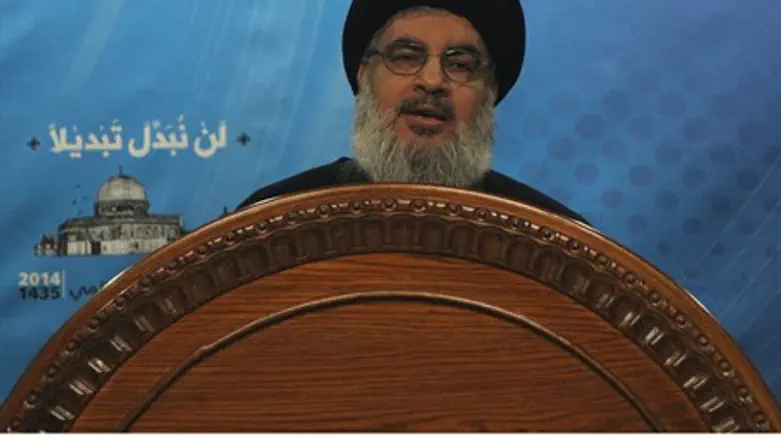 Hezbollah leader Hassan Nasrallah
Reuters
Hassan Nasrallah, the head of the Hezbollah terrorist organization, promised on Friday to give "all means of support" to Palestinian Arabs in its battle with Israel, The Daily Star reported.
Speaking on the Iranian Al-Quds Day, Nasrallah warned Israel against expanding its offensive in Gaza, saying "the resistance" had already won the fighting.
"We, in Hezbollah, stand beside the Palestinian people and the Palestinian resistance without an exception. We will not spare any means of support that we can and are able to provide," Nasrallah said, according to The Daily Star.
"We feel that we are true partners with the Palestinian resistance. ... Your victory is our own," he added.
Nasrallah said that Hezbollah was closely following up political and field developments in Gaza.
"To the Zionist I say: In Gaza, you are moving in a circle of failure and do not go to the circle of suicide or a total collapse," he declared.
"Iran, Syria and the resistance in Lebanon, primarily Hezbollah, as much as we could, never neglected to support the resistance in Palestine on the political, media, psychological, logistical and arms support."
Nasrallah commended Gaza for its steadfastness, saying it had changed the rules of engagement, adopting a tripartite formula "similar to the golden equation functioning in Lebanon."
The formula, Nasrallah explained, rested on three main pillars: fighting on the field, the people's steadfastness and political resoluteness.
"With this formula, the resistance succeeded in imposing new methods on the enemy, and that's not easy for someone like [Israeli Prime Minister Binyamin] Netanyahu to admit," declared Nasrallah.
"From the very first day, they hit Tel Aviv in the first rocket launching from Palestinian territories into Palestinian territories and covering the entire Palestinian landscape," he said.
"At the end, the resistance will eventually force Israel to look for a solution, similar to what happened in 2006," he added, referring to the Second Lebanon War in which his group launched rockets towards northern Israel.
Friday's speech marks the second time in recent days that Nasrallah has declared support for Gaza.
Nasrallah told Hamas' exiled chief Khaled Mashaal earlier this week that "Hezbollah and the Lebanese resistance stand firmly on the side of the Intifada and the Palestinian people's resistance, and support Hamas' strategy and the just conditions it has set to end the conflict."
Iran, which sponsors Hezbollah as well as Hamas, has also expressed its support for Gaza. In fact, Iran's parliament speaker boasted on Thursday that his country provided the Hamas terrorist group with the technology it has used to rain down rockets on Israel from Gaza.
Iran's supreme leader Ayatollah Ali Khamenei called on the Palestinian Arabs on Wednesday to keep fighting Israel and to expand their resistance from Gaza to Judea and Samaria.
(Arutz Sheva's North American Desk is keeping you updated until the start of Shabbat in New York. The time posted automatically on all Arutz Sheva articles, however, is Israeli time.)