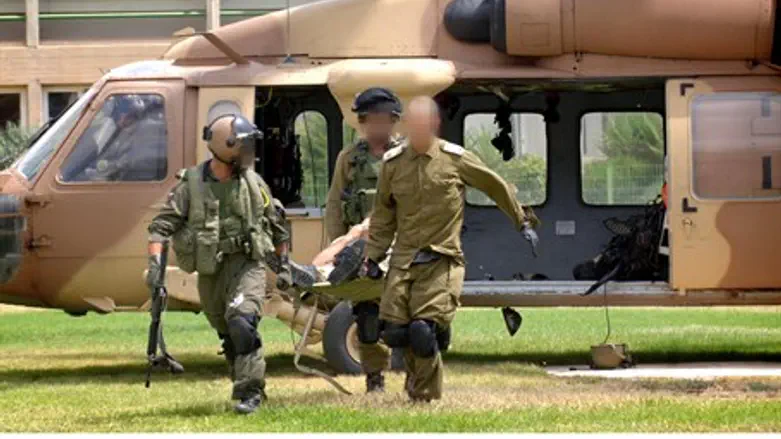 Wounded soldiers taken for treatment (archive
Flash 90
The parents of Moshe Hirt, an American soldier who was wounded during Operation Protective Edge in Gaza, were able to fly to Israel to visit their son thanks to El Al, Israel's national airline, and the head of Moshe's yeshiva.
Hirt, from New Jersey, was a student at the Birkat Moshe hesder yeshiva in Ma'aleh Adumim. The head of the yeshiva, Gilad Gross, recalled what happened after Hirt was wounded in a conversation with Arutz Sheva on Thursday.
"Moshe came to us from the United States for a year at the yeshiva. After he finished his studies he joined the paratroopers," said Gross.
"Unfortunately, he was injured in Khan Younis in Gaza, when a wall that collapsed hit him on the head, we were updated about his injury and we were in contact with his mother, got some guys together and went to the Tel Hashomer Hospital to visit Moshe," he added.
"When we left the hospital I called his parents and gave them an update. We then found out that because the international airlines were cancelling flights to Israel, Moshe's parents were unable to come to Israel," said Gross.
"We called the office of the CEO of El Al, and within minutes they told us there were two free tickets waiting for them to fly to Israel and today they landed in Israel," he told Arutz Sheva.
Gross noted that the love showered upon IDF soldiers by Israeli citizens has been unimaginable.
"We came to Tel Hashomer yesterday and we could not get in," he said. "There  was a tremendous amount of sweets and gifts. But in the end there is nothing like a hug from a father and mother, and so we decided to bring the parents here and indeed we succeeded."
The operation in Gaza has brought to the forefront the stories of several "lone soldiers" (the term given for soldiers without close family in Israel). Thousands turned out for the funerals of two lone soldiers who were killed in Gaza after public calls to do so.