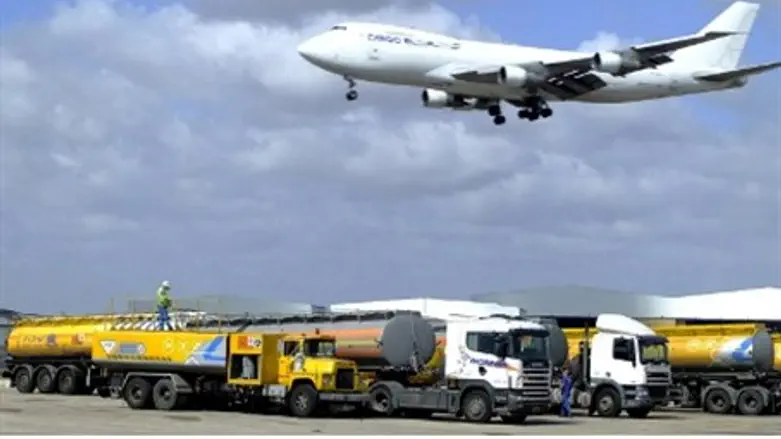 Airplane (illustrative)
Flash 90
The US national aviation authority has lifted a ban on American flights to Israel, but warned of a "very fluid situation" amid intense fighting with Palestinians in nearby Gaza, AFP reports Thursday.
"The FAA has lifted its restrictions on US airline flights into and out of Israel's Ben Gurion Airport by canceling a Notice to Airmen it renewed
earlier today," the Federal Aviation Administration said in a statement.
Officials had initially renewed a formal ban on American flights to Israel Wednesday, until 1615 GMT on Thursday, and around the world many other airlines took their own precautions.
The Federal Aviation Administration (FAA)  issued its ban on Tuesday after a rocket fell on a neighborhood to the north of Ben Gurion, raising fears that a commercial flight could be struck.
But US Secretary State John Kerry did land in Israel, and the State Department said that his team "were very comfortable" despite the rocket threat.
"Hamas does have rockets that can reach Ben Gurion airport... although the accuracy of their rockets does remain limited," State Department spokeswoman Marie Harf said.
Before making its decision, the FAA said it worked with US government officials to evaluate the security situation in Israel and "carefully reviewed both significant new information and measures the government of Israel is taking to mitigate potential risks to civil aviation."
It did not, however, indicate what the new information might entail.
Israel had warned of the economic impact of the ban by many world airlines and said that it would be a win for Hamas, who hailed the suspension as a "great victory."
Delta, United and US Airways all cancelled their scheduled flights for Wednesday, as did a raft of European carriers including Germany's Lufthansa, Air France, Poland's LOT and others. It is unclear as of now whether or not they will follow suit in lifting the ban.