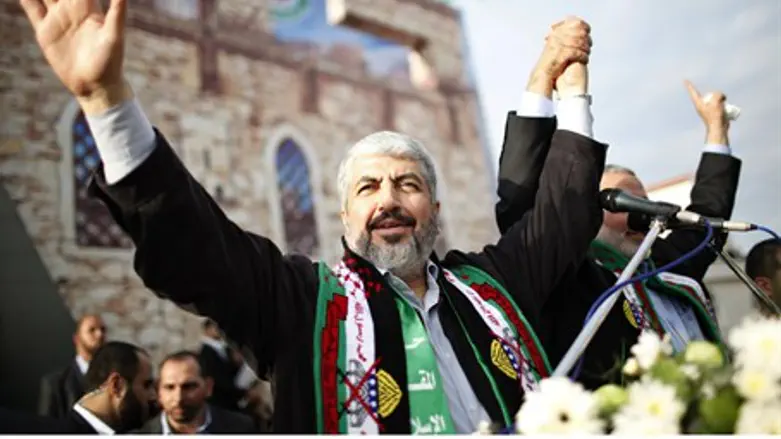 Khaled Mashaal in Gaza (file)
Reuters
Hamas continues to be uncompromising in its position regarding an international cease-fire, AFP reports Wednesday. 
"We reject today and will reject in the future," Hamas leader-in-exile Khaled Meshaal insisted, in a public speech in Qatar.
Meshaal insisted that Israel must accept his list of unprecedented conditions for a cease-fire - which included lifting several security measures, such as the naval blockade and border control, designed to prevent terrorists entering into Israel, as well as re-releasing terrorists arrested earlier this month - and only then will Hamas deliberate with Israel on a date for a cease-fire. 
Meshaal claimed that the terms - which Palestinian sources stated are even more grandiose than what was leaked to the media - are "legitimate," and that Hamas would not stop firing rockets until Israel capitulated to its demands.
Meshaal also mocked Israel for agreeing to negotiations, claiming the cooperation with international powers shows the Jewish state is unnerved by the barrage of rocket fire. 
He emphasized, in this context, that Hamas will not initiate any proposal for a cease-fire with Israel, and will continue to engage in political and diplomatic battle against it as well. 
He repeated demands to permanently open border crossings into Gaza, although he said that it would not object to more temporary 'humanitarian cease-fires.' 
Meshaal also reiterated Hamas's commitment to "continue kidnapping Israeli soldiers" in order to secure the release of every Palestinian terrorist held in Israeli prisons.
This is not the first time Hamas has rejected a cease-fire deal. Last week, Egypt was reportedly in the process of brokering a cease-fire, which Israel accepted, but Hamas did not; in addition, Hamas has broken three confirmed 'humanitarian truces' within minutes of their being announced.