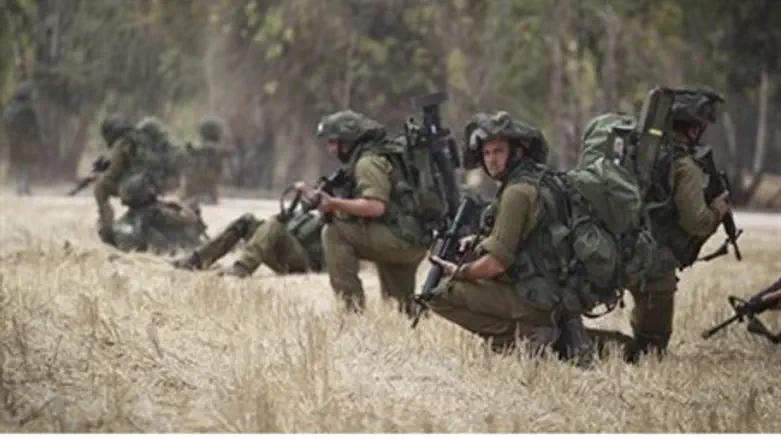 IDF forces in Gaza
Flash 90
The IDF struck a terrorist position in Gaza's Al Wafa hospital, illustrating the highly sensitive and illegal use of civilian targets as human shields by Hamas and other Gazan terrorist groups.
IDF sources say that the controversial decision to attack the hospital Wednesday was taken after several days in which ground forces came under heavy fire from gunmen positioned inside the hospital grounds. The fire reportedly included both light weaponry and heavy anti-tank missiles directed towards IDF armored vehicles.
"The hospital premises were being used as war rooms and command centers by the terrorist groups Hamas and Islamic Jihad," said an IDF spokesperson.
The military added that it had repeatedly warned international agencies and the Palestinian head of the hospital directly about the gunfire from the hospital, as well as several other senior Palestinian officials - but to no avail. Instead, in the past several hours the intensity of the attacks has only increased, posing a real and imminent danger to the lives of soldiers operating in the area, forcing the IDF to respond with fire of its own.
In the past day the IDF has killed approximately 30 terrorists, and overnight the Israeli Air Force struck 120 targets in the flashpoint Gaza neighborhood of Shajaia where heavy battles are still raging.
Since Operation Protective Edge began 16 days ago, some 3,200 terrorist positions have been hit in Gaza and 28 terrorists were arrested by IDF forces. Some 80 tunnels and concealed rocket launchers have also been exposed by IDF ground forces.
According to the military in the last day or so terrorists have upped their efforts to attack ground forces searching for the tunnels, which are used to store and transport rockets and also to plan infiltration attacks into southern Israel. 
An IDF spokesman added that the decrease in rocket attacks on Israeli population centers in the past few days is not indicative of terrorists "running low" on rockets, and urged Israeli citizens not to become complacent and to continue taking the necessary precautions and following the instructions of the Home Front Command.