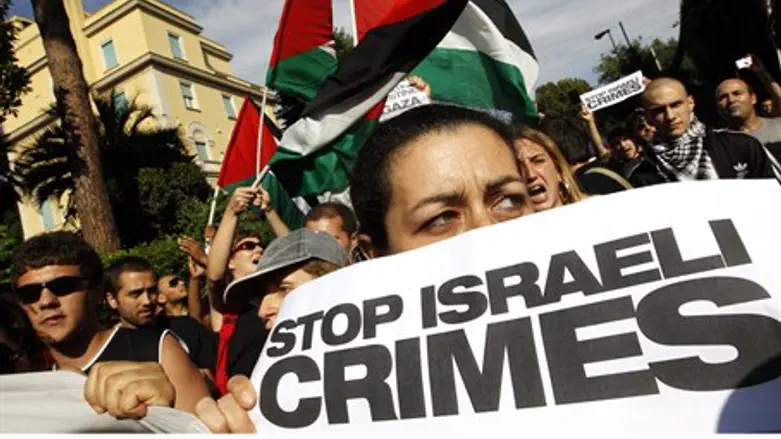 Pro-Palestinian demonstrators shout anti-Isra
Reuters
All of Lebanon's main television channels are to broadcast simultaneously on Monday, in a "television protest" in "solidarity" with Hamas in Gaza, according to AFP.
The unusual protest named "Palestine... You are not alone" brings together networks with radically different views, including the official TeleLiban, Hezbollah's Al-Manar, LBC, MTV and NBN.
They will broadcast at 8:10 pm (1710 GMT) an identical report on the humanitarian dimension of Israel's two-week assault on the Gaza Strip, which has cost the lives of more than 500 Palestinians - most of whom are either Hamas terrorists, or participants in Hamas's cries to become human shields. 
Lara Zaaloum, executive director of LBC's news show, said 30-minute program was "the fruit of a shared effort" that aims to "salute the people of Gaza, and its children." 
Earlier Monday, Hezbollah leader Hassan Nasrallah made phone calls to both Hamas leader Khaled Mashaal and Islamic Jihad leader Ramadan Abdallah Challah expressing support for what he termed "Palestinian resistance." 
Several rockets have been fired into Israel from Lebanon since Operation Protective Edge began two weeks ago.
The Lebanese Army arrested several terrorists involved in the salvo on the Galilee, but also complained to mediating body UNIFIL after the IAF responded to the attacks. 
Pro-Palestinian protests - often violent and anti-Semitic - have erupted worldwide, as the international media presents a sympathetic face to the more than 500 Palestinian Arabs killed, claiming they are innocent civilians. 
Hamas has openly boasted about the "success" of its strategy of using civilians as human shields during Operation Protective Edge, which is now ending its tenth day, and the IDF has published extensive evidence of the practice.
Hamas has in the past urged Gazans to ignore warnings from the IDF about upcoming strikes, in remarks caught both on Hamas-sponsored television and on the radar of international media outlets. Hamas's "Public Security Ministry" in Gaza even made official statements Thursday encouraging more civilians to refuse to heed IDF warnings ahead of a possible ground offensive. 
In addition, several of the rockets fired from Gaza have never made it on to Israeli soil, and may be partially responsible for Palestinian Arab deaths from within Gaza itself.
However, the evidence has not prevented a significant upswing in anti-Semitic violence worldwide, nor swayed international media from presenting a skewed view of the conflict.