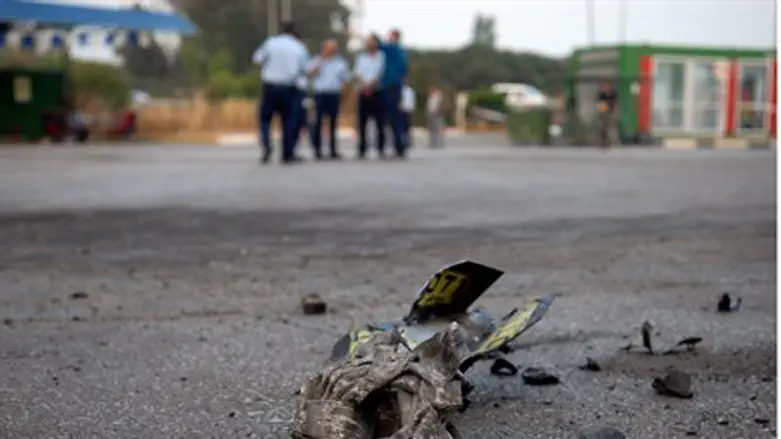 Shrapnel (illustrative)
Flash90
Rocket fragments fell throughout Rishon LeTzion on Sunday, after the Iron Dome intercepted a large volley fired on the heavily-populated Gush Dan region. 
But as shrapnel rained on the unsuspecting populace, one kindergarten was narrowly missed by a large fragment - an open miracle, as Channel 2 reports. 
Some 20 children and staff headed into a protected area just moments before the rockets were intercepted, according to the daily. No staff or children were injured and no damage was reported. 
Clara Nehmadi, kindergarten director, spoke to the outlet about the near-miss.
"Shrapnel fell and security forces evacuated us," she recounted.
"The children are fine, I hugged each of them and calmed them."
"This is Russian roulette; you never know where a rocket can fall," she explained. "The entire country is within range."
Nehmadi added that she "do[es] drills throughout the year" and that the children are "trained" to enter their protected area.
Mayor of Rishon Lezion Dov Tzur visited the kindergarten shortly after the incident and praised the staff and children for following procedure.
"We saw a small depression in the earth where the shrapnel fell in the kindergarten courtyard," he said. "The children were in a secured room and followed procedure."
"I don't want to think about what would happen if shrapnel fell in the yard while children were playing," he added.
Rocket fire on Israel has become so common since the 2005 Disengagement from Gaza that one kindergarten teacher published a song to help children cope with the fear and anxieties of the attacks. 
As Operation Protective Edge extends well into its thirteenth day against Hamas rocket fire, at least 1,770 rockets have been estimated to have been fired on Israeli civilians - and close to 10,000 have been fired since the 2005 Disengagement.