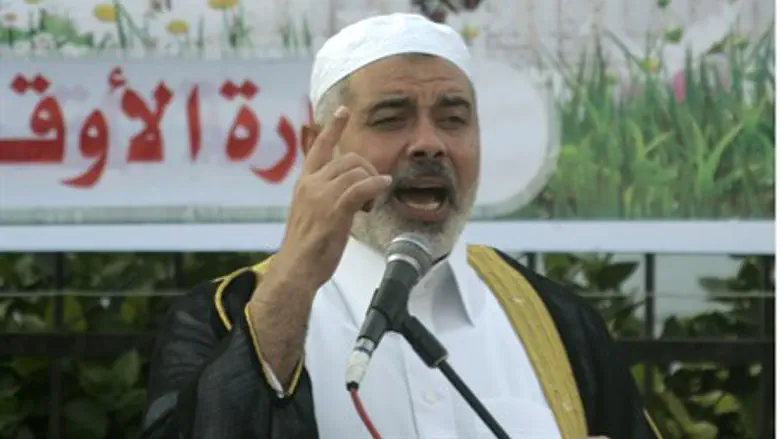 Hamas leader Ismail Haniyeh
Flash 90
Hamas leader Ismail Haniyeh may be a persona non grata for the Israeli government - but three of his sisters are living as full Israeli citizens.
The Telegraph reports Sunday that Haniyeh's sisters, Kholidia, Laila and Sabah, married Bedouin and became full citizens 30 years ago.
The three now hide in the anonymity of the Israeli desert, according to the daily. While two are widows, and live alone, none are apparently willing to move back to Gaza and relinquish their Israeli citizenship. 
"Our life is normal here and we want it to continue,'' said Salameh Abu Rukayek, 53, who married Kholida. 
Abu Rukayek explained that Tel Sheva Bedouin went to Gaza to find wives as much as 25 and 30 years ago due to a low ratio of women to men in their small community - and slammed the current Israeli ban on entering Gaza, which was enacted for security reasons. 
"This is a racist law that makes problems for some people in Israel like the Bedouin who often marry into Palestinian families,'' he said. "It is unfair against us and not against other Israelis.''
Ismail Haniyeh, Kholida's younger brother, used to visit Tel Sheva several times per year to see his sisters, he said. It is unclear how long it has been since he returned or whether he is still in contact with his Israeli Bedouin relatives. 
Haniyeh stepped down as Hamas leader earlier this year, then reportedly fled to Qatar, along with other Hamas political leaders. 
Several of his relatives have received medical treatment in Israel - including his mother in-law and granddaughter - despite the fact that he has pledged its utter destruction.