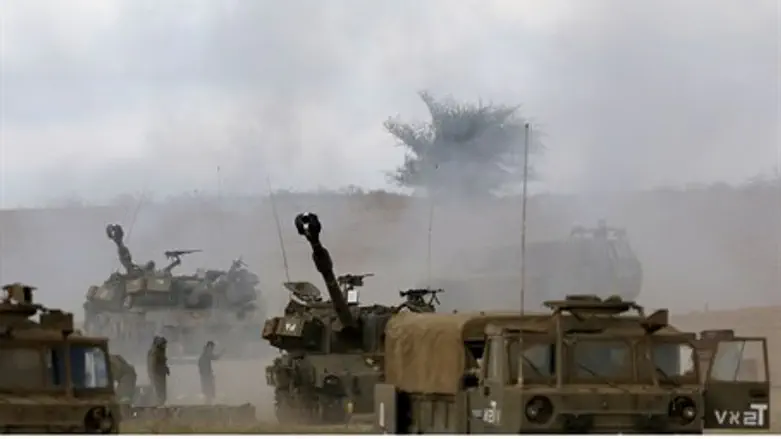 תותחנים בגבול עזה
פלאש 90
The IDF carried out heavy shelling Sunday in Shejaiya, east of Gaza City. The strike reportedly involved huge forces in tanks and artillery. 
Hamas asked for a "humanitarian ceasefire" Sunday to allow it to evacuate casualties from the neighborhood. The ceasefire was to end at 3:30 p.m. local time, and has been extended twice since then. The IDF announced around 4:45 that the ceasefire would be extended until 5:30 p.m.
Since starting the ground phase of the operation on Thursday night, the IDF has killed 130 terrorists and wounded 800, a senior official updated Sunday morning.
Palestinian Arab networks claim that dozens have been killed in the shelling, which extended from Saturday night to Sunday morning.
Among the dead are the family members of senior Hamas leader Khalil al-Haya, according to multiple sources, after their house was shelled in Gaza City itself. Hamas submitted a request for a "humanitarian ceasefire" Sunday after the shelling, handing the request through the International Red Crescent. 
"The ICRC contacted (us) and offered to broker a three-hour humanitarian truce to enable ambulances to evacuate the dead and wounded and Hamas accepted it," spokesman Sami Abu Zuhri said in a statement.
Contacted by AFP, an ICRC spokesman refused to confirm or deny the report, saying only: "We have been making every effort to ensure ways to evacuate the dead and the wounded."
Earlier, reports from respectable sources indicated that Israel has rejected the request, as Hamas continued to attack Israel during last week's attempt at such a move. 
However, in a sudden reversal, Israel agreed to a two-hour humanitarian ceasefire on Sunday afternoon, pledging to stop the airstrikes from 1:30-3:30 pm IST. The IDF has asked all Gazans to evacuate Shejaiya, as well as Saladin near Gaza City, in advance of airstrikes resuming later Sunday. 
But the ceasefire did not last long - as Hamas broke the truce just 40 minutes in. 
"Once more, Hamas breaches ceasefire, this time brokered by the ICRC (International Committee of the Red Cross) for a humanitarian hiatus. IDF responding accordingly," army spokesman Peter Lerner said on his official Twitter account in a posting just 40 minutes into the truce.
Lerner's latest tweet, at about 4:45, said that the ceasefire was extended until 5:30 p.m.