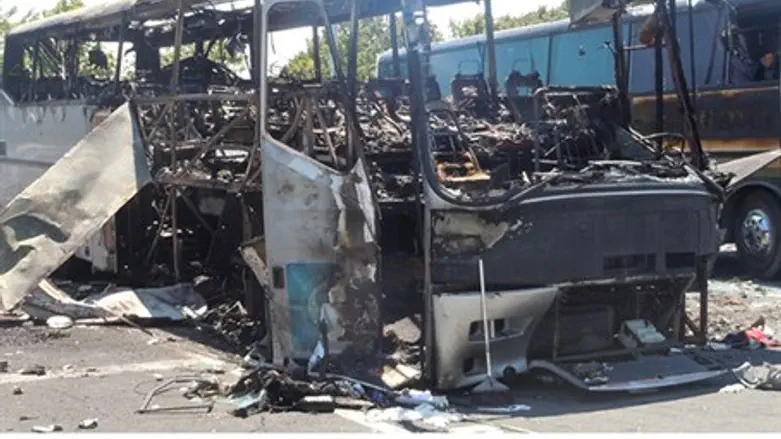 Israeli tour bus targeted in Burgas attack
Reuters
Bulgarian prosecutors revealed for the first time Friday the identity of the bomber in a deadly attack on Israeli tourists in the Bulgarian sea resort of Burgas in 2012. Five Israeli tourists were killed in the attack as well as the driver of the bus and the bomber, while more than 30 other Israelis were injured.
The bomber was named as Mohamad Hassan El-Husseini, a dual French and Lebanese citizen, born in Lebanon in 1989, prosecutors said in a joint statement with the national security agency DANS. 
"He was positively identified thanks to a DNA test and other measures during the course of the investigation," they added.
"Friends and relatives of Husseini also posted messages of praise on social media for his martyr's death," the statement noted.
Two pictures of the suspect were published on the DANS's website on Friday and showed a serious-looking young man with fair skin, short dark hair and freckles.
The July 18, 2012 attack at Burgas airport was the deadliest attack on Israelis abroad since 2004, and Israel  blamed Iran and its terrorist proxy Hizbullah for the bombing, as did Bulgaria.
The bomber did not act alone however.
Bulgaria's interior ministry revealed last July the names of two of his accomplices: a 32-year-old Australian national, Maliad Farah, and a 25-year-old Canadian, Hassan El Hajj Hassan.
Both were Lebanese-born like Husseini and were believed to be currently in Lebanon.
According to investigators, Hassan was the one who remotely detonated the bomb that was carried onto the airport bus by Husseini. Farah was believed to have assembled the explosive device.
But despite recovering fingerprints and DNA from the bomber, Bulgaria long struggled to identify the culprits.
Burgas prosecutor Kalina Chapkanova told national radio Friday that the investigation into the attack was ongoing and that several judicial requests had been made to different countries, although she did not say which ones.