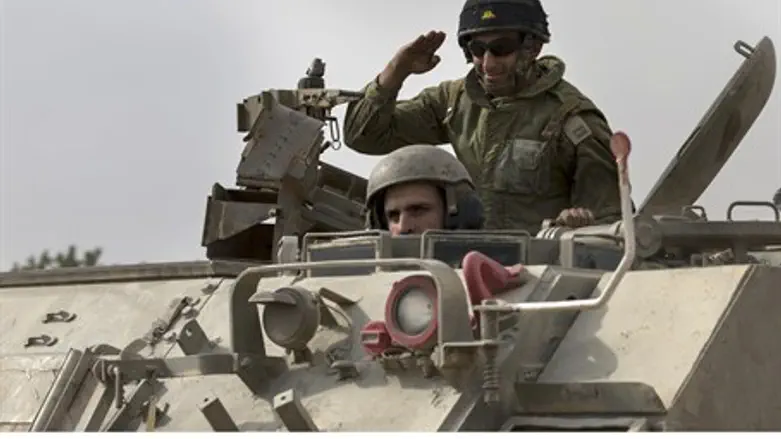 IDF soldiers in an armored personnel carrier
Reuters
A ground offensive is in the works, AFP reports Wednesday, after Hamas broke Tuesday's brief cease-fire and pummeled Israel with rockets - and threats. 
The Security Cabinet approved an order to call up 8,000 additional reserve soldiers Wednesday afternoon, it was just announced, in addition to the 40,000 soldiers approved to be called up for reserve duty last week ahead of a possible ground offensive. 
The initiative may finally be actualized later this week, according to IDF Radio, which noted that while Israel would prefer a truce to putting boots on the ground, the security cabinet met overnight to discuss the possibility of a limited ground operation.
Ministers have already approved plans to raid Hamas's full network of terror tunnels. They also discussed the possibility of a limited ground incursion which would not initially involve entering towns of villages but focus on terrorist positions in rural areas it said. That would likely include the sites of former Jewish communities there, which were expelled during the 2005 Disengagement Plan.
"Israel has no option but to continue the operation and intensify it," former national security adviser Giora Eiland told IDF Radio.
"The main dilemma is over a ground operation," he said, explaining that only a ground operation could inflict "real destruction" on Hamas's network of underground tunnels. "It looks like we're rolling in that direction, since air strikes have their limitations."
In the nine days since Operation Protective Edge began, the IDF has hit 1,752 terror targets in Gaza - 100 of them in the past 24 hours. In total, 1,261 rockets have been launched at Israel by Hamas and Islamic Jihad; of those, 984 hit Israeli soil and 228 were intercepted by the Iron Dome missile defense system. 
However, Hamas's threats against Israeli civilians have only intensified, firing constant rockets on major population centers and even sending weakly-worded text messages to the public demanding the government capitulate to their conditions for a truce. 
Meanwhile, the push for a ground offensive continues - not just from current ministers, but from former MKs as well. 
"The current round of fighting between Israel and Hamas needs to end different than it has in previous operations," former Housing and Construction Minister, Effie Eitam (Ahi/Likud), stated to Walla! News Wednesday. "One of our tools would be a ground offensive." 
"It would be difficult to stop the rocket fire - which is the minimum goal - without a ground offensive," he noted. "In places where we've launched ground offensives [before], such as Shechem and Ramallah, there have been no missiles [at all]."