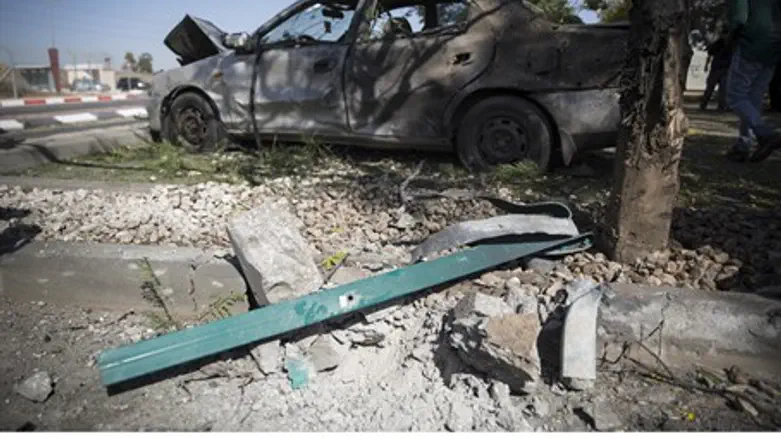 Car damaged by Gaza rocket
Flash 90
The majority of the Israeli public is against a ceasefire with Hamas at this time, a poll conducted for Channel 2 News on Tuesday found.
53% of respondents said they opposed a ceasefire with Hamas, while 35% said they support it. 12% said they did not know or refused to answer.
At the same time, a majority of respondents were pessimistic about Operation Protective Edge bringing an end to the rocket fire from Gaza. 92% said they believe that the operation will not end the rocket fire, and only 6% said that they believe that Hamas would stop the rocket fire after the operation.
Respondents were also asked whether they were satisfied with Prime Minister Binyamin Netanyahu's performance over the past week. 53% said they were satisfied with Netanyahu's performance, compared to 35% who thought the Prime Minister's performance during Operation Protective Edge was not satisfactory.
Results of the poll were made public as Netanyahu threatened a full ground invasion in the event that escalation from Gaza continues.
The comments came hours after Israel agreed to Egypt's proposed ceasefire, but Hamas rejected it and continued to fire rockets, prompting Netanyahu and Defense Minister Moshe Ya'alon to order the IDF to resume its airstrikes on Gaza.
"Hamas chose to continue the conflict and it will pay the price for it," said Netanyahu. "Anyone who tries to harm the citizens of Israel, Israel will hurt them."
"As long as there is no ceasefire, we will respond with fire [of our own]," he stressed.