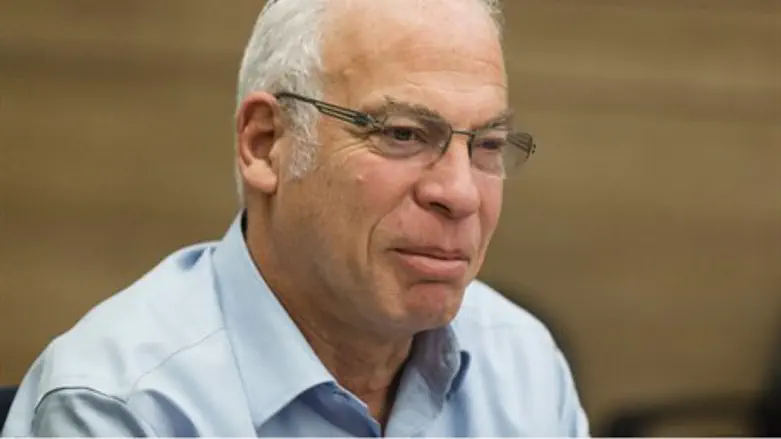 Housing Minister Uri Ariel
Flash 90
Nationalist Knesset Members expressed outrage on Monday night over Egypt's proposal for a ceasefire in Gaza, which the Cabinet is to vote on early Tuesday morning.
Diplomatic officials said that the Egyptian proposal would return the situation on the ground to the state it was before Operation Protective Edge, but with a Hamas that is much weaker than before.
Officials close to Jewish Home Chairman Naftali Bennett said he would vote against the ceasefire.
Housing Minister Uri Ariel (Jewish Home) told Channel 2 News that the ceasefire proposal is "very bad. I hope the reports are not correct and if they are, this is a disaster."
Minister Ariel stressed that the ceasefire would endanger Israeli citizens. "It won't be long before Hamas will grow stronger, smuggle more elaborate rockets and open fire again," he warned.
Asked how he believes Israel should act now, he responded that the operation must continue, "including ground entry. We need to finish the job. Doing half a job is worse than doing nothing."
Deputy Defense Minister Danny Danon (Likud) said that a ceasefire at this point would be a "slap in the face" to the residents of the south, who were willing to pay a heavy price in return for Israel dealing a significant blow to Hamas.
"No cosmetics will be able to beautify this serious mistake," he said.
Deputy Education Minister Avi Wortzman (Jewish Home) said that a ceasefire would portray Israel as weak.
"I call on the Cabinet ministers not to support this mistake. Under these conditions we have to oppose this ceasefire, which is good for Hamas and bad for Israel," said Wortzman.
"We, the residents of the south, can be patient until Hamas is defeated," he added. "A ceasefire now will produce a larger campaign against the south and the country as a whole and more missiles within a year."
MK Ayelet Shaked (Jewish Home) also expressed her opposition to the ceasefire and said, "A ceasefire without seriously harming the tunnels and missile systems means capitulation. The people of Israel are strong; the IDF is primed and ready; Hamas is on the ropes."
"Otherwise," emphasized Shaked, "we will allow Hamas to intensify again and we will get another confrontation soon."
MK Miri Regev (Likud) said she was against a ceasefire and called on Netanyahu not to agree to it.
"I call on the Prime Minister not to agree to a ceasefire and to weaken Hamas by operating in the air, in the sea and by land," she said.
"This is a window of opportunity that will not be repeated, and a ceasefire with Hamas would allow it to return to power," added Regev.
MK Nissan Slomiansky (Jewish Home) also said he was opposed to a ceasefire.
"The Israeli government should apologize to the residents of the state for its lack of courage and that we will have to go through the same thing in another year or two. Too bad we don't have an Iron Dome system that could intercept the hesitancy of the government," he said.
Leftist MKs, however, welcomed the ceasefire, with Meretz chairwoman MK Zehava Galon saying it was "the right decision".
MK Ilan Gilon (Meretz) also welcomed the initiative and said, "A ceasefire is proof of the victory of reason."
Gillon added, "This is a tactical achievement, and now we have to build the permanent solution. The solution in Gaza passes through Ramallah. The Prime Minister must call [Palestinian Authority Chairman Mahmoud] Abbas to return to the negotiating table and resume talks on the basis of the two-state solution."